The Path To Self-Love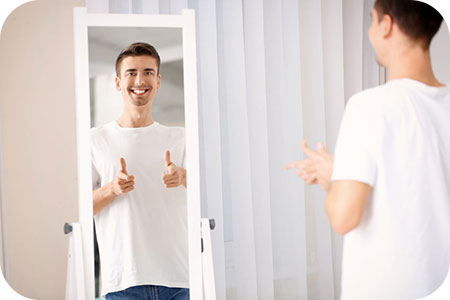 In the words of Esther Perel, when did we learn to live on crumbs? Who taught us not to need much and where did we learn to refrain from wanting, asking, needing? Wise words! I see it so often, in myself and in so many others. We dim our own lights so that others feel better about themselves. We sell ourselves short through self-criticism. We settle for mere crumbs in relationships. It is a common tendency especially among healers and those who are more empathic. The question is why do we do this and how can we alter the pattern?
Why do we do this? At the core of the issue is self-love – simply not feeling good enough about ourselves or worthy enough, because on some deep level our self-worth and self-love is damaged or wounded. No one escapes these issues as a result of being in this physical body and feeling like we are separated from our ultimate Source. We therefore are constantly searching for ways to prove our worth, to feel acceptance and love from others to validate ourselves.
Yet, when you look at people who seem to have everything it would take to achieve all the validation they would ever need from others, it is often clear how wounded they are, with just as many issues and problems as we have. The irony is… the things we constantly seek from outside ourselves can only come from within one's self. Yet sadly, we are conditioned to seek outside ourselves for all the answers. The Buddha said peace comes from within, do not seek it without.
If we do not know how to take care of ourselves and to love ourselves, we cannot take care of the people we love. Loving oneself is the foundation for loving another person ~ Thich Nhat Hanh
How do we change this? To start, it's key to realize that you are an integral and vital part of creation woven in the fabric that creates the tapestry of existence. There is no one who has the unique combination of abilities, talents, and experiences that can make up another you. No one can be as good at being you as you are, and this makes you just as important as absolutely any soul that has ever walked planet. What you contribute is equally as important as anyone else. From this place you can begin to feel and accept your true value as a unique piece of the divine puzzle.
At this point, we can begin to look at our relationships and experiences from a greater place of non-judgment, knowing that each is here to help us relearn how to love ourselves first. We can approach things and relationships with a different eye, as Eckart Tolle says, "If I accept the fact that my relationships are here to make me conscious instead of happy, then my relationships become a wonderful tool for self mastery that keeps realigning me with my higher purpose for living."
The state of happiness is truly one that is completely self-generated. True fulfillment comes from understanding what our soul truly desires, and knowing that is it our own responsibility to create that in our own life. No one else can do it for us, or bring it to us. We can only support each other on our individual journeys.
Move forward with the knowing that you are a unique expression of the creator and you cannot compare yourself to anyone else. Apply the compassion and forgiveness you give to others to yourself first. From that space you will naturally drop your judgment of others, as well as minimize the impact others actions or words can have on you.
There is a vitality, a life force, a quickening that is translated through you into action, and there is only one of you in all time, this expression is unique, and if you block it, it will never exist through any other medium; and be lost ~ Martha Graham
Self-love is the acceptance of yourself, exactly as you are right in this moment – it is as simple as that. It's perfectly okay to see something you would like to change or don't particularly like, however, move in to acceptance of who you are right now. Feel what that sensation feels like in your body… maybe a little lighter, maybe a little freer? Allow yourself the space to fail or fall down, it's what makes us all human.  It is an integral part of the process we call life and it is perfectly okay. We learn, integrate, and grow through what we perceive as failure or mistakes. Celebrate them!
Today, commit to yourself and your path. Commit to starting or continuing the process of moving towards a greater self-love and see how your world changes with you. I made this pledge to myself for the New Year. Feel free to make one of your own.

About The Author: Suzenn

Suzenn is a gifted intuitive reader, channel, counselor and guide, and is currently a staple at two local fairs in Texas, where she currently resides. She has been providing accurate readings for over twenty-two years, and she has followed the synchronicities that have led her to new and exciting territories, outside the norm. Her practice has included readings at a large metaphysical bookstore, at conventions, and for clients on-line, all of which have helped her to cultivate an established client base. Clients include CEOs, fitness personalities, and she's the reader that other psychics go to for advice! Her readings include remote energy sessions, Mediumship, inner child healing, chakra balancing and psych-soma healing. If you'd like to experience a major shift in your life, release past trauma, or just be able to embrace your inner child, you'll not encounter a more caring, non-judgmental, and uniquely gifted reader. You can find Suzenn at PsychicAccess.com.