Little Miracles – Charms, Milagros And Ex-Votos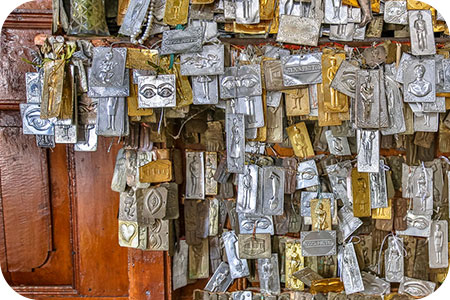 Years ago, my Grandfather gave me a gold bracelet. Upon his travels, or on special occasions in my life, he would gift me a charm to add to this bracelet. It was to remind of the things I loved or accomplished.
These charms are all special to me, but the one that stands out is the gold angel he gave me one Christmas. I remember when opened the box, the Angel was sparkling. I knew she was inviting me through the doorway to the unseen – to be able to speak through the veil.
This was my initiation to charms. Today, I use them as talismans, jewelry, mementos, and for divining. I'm also a collector of small, unique boxes and that's where my charms reside. Many of my charms are items that were passed down to me, such as a thimble, buttons, coins, safety pin, small crystal figurines, toys from cereal boxes' I also have found objects, like feathers and an acorn. Some are purchased charms, and charm kits from my favorite artists.
No matter our background or culture, symbols are universal and they tell a story. When I use my charms for divination, I ask clients to select charms at random, or intentionally. I then read their chosen charms before they leave from a session.  There is usually a charm or symbol that speaks to them that about a loved one, or someone that passed on. It's often through this symbol we can speak to them or make that connection.
For the Mexicans who create and post exvotos, God is very much alive, helping them in their times of crisis. The exvoto is an expression of faith, a public thank you note to God, a reflection of popular culture, and a form of folk art ~ Richard Ferguson
A senior lady in our neighborhood, who noticed my interest in charms and found objects, encouraged me to work with milagros and ex-votos. They are religious folk charms that are traditionally used for healing purposes and as votive offerings in Spanish and Latin American culture. Milagro means 'miracle' in Spanish, and ex-voto means 'from the vow' in Latin.
They are traditionally offered to a deity or saint as a form of prayer or a wish, or in thanks for desires fulfilled. They are typically attached to altars, shrines, and sacred objects found in places of worship. They are made of from different materials, such as tin, wood, silver, gold, bone or lead. Milagros can also be carried for luck or protection, and incorporated in jewelry.  Sometimes a written prayer is attached.
The following are a few of my favorite Milagros symbols:
Heart – A petition for a heart problem, prayer for romance, to heal a broken heart.
Angel – The Holy Guardian, protection, messenger.
Winged Heart – Freedom given from unconditional love.
Hand – Friendship and love. Healing touch or healing of an actual hand ailment.
Traditionally the placement of a milagro involves a solemn pilgrimage to a shrine, but today many people are finding new ways to draw on the milagro tradition. It is now common for many to carry a milagro with them to draw on the power it offers, or to have milagros on personal altars ~ Joan Robinson-Blumit 
Fish – To cure infertility and for pregnancy. To have enough to eat, a blessing, money, luck. A sign for the unconscious, insights coming to the surface. Spirituality (a fisher of men from the writings of Matthew in the Bible).
Car – Safe travels, vehicle repair or replacement or the courage to move; going forward.
Animals – health of the animals you tend.
Note that one can assign any meaning to your charms or milagros, because it's all about our intention for this particular charm and how we are going to use it.

About The Author: Maggie

Maggie helps people turn the radio dial up on their vibrations to hear the messages you're meant to receive. It all began as a teen with a dog-walking job in the neighborhood that—if you'll excuse the pun—unleashed Maggie's innate Gifts as a powerful Intuitive Reader. What followed was a rewarding career as a Tarot Reader, Numerologist, Reiki Master, and Angel Card Reader—to name just a few of her remarkable skills. Maggie's accomplishments include on-air co-host for Blogtalk Radio, several published articles on Tarot and Numerology, she's an endorsed reader for The Tarot Guild, and a much sought after Intuitive Reader hired for both corporate and private events. In addition, she has a YouTube channel where you can view and subscribe to her weekly vibes. If you'd like to personally tune-in to Maggie's unique and highly accurate vibe, for yourself, you can find her at PsychicAccess.com.