A Story Of Healing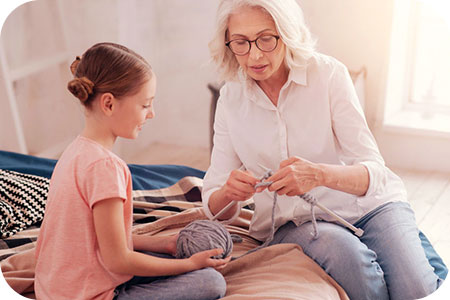 I asked my mentor how I would get energy healing work. Her answer to me was, "You don't have to do a thing, they will come to you." She was really right about this! Healing is a part of my life purpose and the right people seem to find me at the right time.
One of my most memorable healing experiences involved a young girl who only 8 or 9 years old at the time. I was living in a pretty large apartment building at the time, in a not-too-nice part of the city. We lived on the same floor.
Ventilation was not so great in this complex and only a few people had air conditioning, so everyone would leave their doors open in the summer, for a draft of fresh air to come into the stuffy apartments.
Many of the children would play with each other in the hallways. It was always noisy, but in a way it was better than having them play out on the streets without adult supervision. When they did go outside, a mom was always with them, to bring them over to the park that was a few blocks away. Then there are some good parents and some not so good parents, as usually the case is.
It was on one of these sweltering summer evenings that we met. My door was open, and there was a birthday party gone wild on the same floor. Several kids were running up and down, screaming, and having a great time. I stood in my doorway, and all of a sudden this angel face pushed me aside. "Move," she screamed, "I really have to go!" She then proceeded to use my bathroom. I stood there in shock. I never had a child talk to me like this. This girl with an angel face, would put the oldest, saltiest sailor to shame with her choice of language!
A healer's power stems not from any special ability, but from maintaining the courage and awareness to embody and express the universal healing power that every human being naturally possesses ~ Eric Michael Leventhal
When she finished, she did flush, at least. Then she then ran out, without saying anything. Wow, I thought, when I was growing up, it was a different world. Kids said please and thank you, and they seemed to respect their elders. For the rest of the night I kept my eye on her. In fact, I brought a chair by the door and did some sewing, while I watched the children. Finally, they were all called in by their parents, and I took my chair in. I had enough excitement to last me a while!
A couple of hours later, I did hear some noise in the hall. I went to investigate, and there she was just hanging out looking out of the hall window. So, I introduced myself to her, and asked her name and she answered. "Why aren't you inside and sleeping yet?" I asked. She told me that her mom had company, and did not want to be bothered. This sent my blood boiling, but I minded my own business.
They lived right across the hall from me and I told her that I was a night owl… if she ever needed anything to just knock on my door. In fact, that night I went to the fridge, and poured her a big glass of lemonade, and took it out to her. She accepted it and gave me a funny look. I said it's okay, I know what it is like to be thirsty. We then sat on the stairs to our floor and talked.
Her Mom was a bit 'messed up' from what I could see. I mean, you don't leave your child outside of your apartment, just because you have a man over. But I reminded myself not to pass judgment. I then vowed to myself that I would watch this little girl on these kind of nights. Sadly, it turned out that her mother was 'busy' most nights … with different men every night. Get the picture? But we don't pass judgment. Just try to help out.
I met the mother eventually. She was pretty, and she didn't seem to have much of an education. I guess in her own mind she was doing what she thought was the best thing to do? I let her know that her daughter could come and ask for any favor that I would be able to do for them.
The secret art of inviting happiness. The miraculous medicine of all diseases. Just for today, do not anger. Do not worry and be filled with gratitude. Devote yourself to your work. Be kind to people. Every morning and evening, join your hands in prayer. Pray these words to your heart and chant these words with your mouth ~ Dr Usui Mikao
I felt a sense of purpose coming on. I meditated mornings, and at night. In my meditation I asked permission to the God Force that is all around each and every one of us, that I may send healing to this little girl and her mother. I got a big yes on that. I grew to like them, I really didn't want to see anything bad happen to either one of them. So, very quietly, twice a day, I sent the White Christ Light around them and I prayed for their protection and betterment.
In a period of about two months, changes started to happen! A social worker took an interest in them. The mother was offered paid training with the promise of a permanent job. There were less male visitors coming and going. One guy did stay around, and he ended up asking her mom to marry him. And the little girl became more and more interested in school. All of this took place in the course of about a year.
This story had an even happier ending and I am eternally grateful to the God Force for this. The mother ended up happily married, and with a good job. She became a counselor to troubled teenage girls! How fitting, I thought. And the little girl ended up going to college, and became a registered nurse. And I ended up having two people in my life that I now consider a part of my family. They still come to see me a few times a week.
I guess the moral of this story is that there are all types of healing to be done in this world. When you send out healing thoughts with love, you only get back love, and a lot of great things can happen to everyone involved.

About The Author: Gabrielle-Claire

Gabrielle-Claire is a spiritualist psychic reader who channels the messages her Guides provide. She is also a gifted psychic healer who has studied with some of the finest metaphysical teachers, including a renowned healer of the Aquarian Foundation. Through her connection with the evolved souls of her Guides and Ascended Masters, she is able to put all of her numerous skills and gifts to great use, providing answers and healing energy to clients, and helping them to find their own hidden talents and abilities. You can have a life-transforming reading with her today at PsychicAccess.com.