2019 – Year Of The Hanged Man And The Empress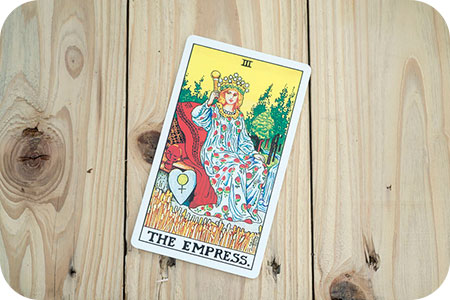 In Tarot, 2019 is the year of the Hanged Man: key card 12 (2+0+1+9=12) – letting go. It is also the year of the universal archetype of the Empress: key card 3 (1+2=3) – love with abundance.
Usually only one card is highlighted for a Tarot year, but I feel it's important, if possible, to also reduce the year number to a single digit, to have the energy of both archetypes and vibrations. Also, in Numerology, the we are in a 3 year, which encompasses everything the Empress embodies.
Furthermore, this year's numbers, 1, 2 and 3, is a message to live life more simply and to choose only the things that bring us love and beauty.
First, let's look at how we can deepen our understanding of The Hanged Man's energy to assist us in this New Year. His message is one of letting go, release, looking at things from a new perspective, a pause or sacrifice. In our lives we can look at what we need to release that may be holding us back in relationships, career, health, or our spiritual growth.
The Hanged Man also remind us to take a pause to see things in a new way, for meditation, and for not forcing things. Sometimes our ego takes control and we can find ourselves blocked, wanting what we what. It's important to take a time out to see the situation from a higher perspective, to hear the messages from the Divine. We then can approach life from a peaceful and more balanced place, in our thoughts and feelings.
In utilizing my Hanged Man year as a birthing process I can take the time to do my introspection and meditation on what's been hanging me up, what I need to let go of, what am I addicted to, and ways I betray myself and others ~ Julia Hesse
When you look at this card, the Hanged One's body is hanging from the Tree of Life in the Yoga tree pose, which helps one to become more balanced physically and more focused mentally. The Tree connects us to Heaven, and with its branches and roots to the Earth and to each other. The Tree can offer us healing in 2019, connecting back to our roots, finding ways of connecting to others, feeling more grounded, connected to all living things. In this connectedness we feel more compassion for ourselves and others.
To understand what the Empress can bring into our life in 2019 we need look no further than the abundance in the garden that surrounds her. Abundance is a major theme here. If we are feeling a lack of abundance in our lives, whether it's our health, in relationships, money or other areas, 2019 is the year to turn that around. Her robe is patterned with pomegranates which is a symbol of fertility. She is shown pregnant, she is the creator in her life and her message is: so are we.
This year is pregnant with possibilities for us; we just need to believe and take time to relax into who we wish to become. Visualize yourself in that place and embody with all your senses your new becoming. Her ruling sign is Venus, as shown on her card, a symbol of beauty and love. Allow Venus to be your muse this year, to feel the beauty in all things, and most importantly in yourself.
Maybe it's time to spruce up our home, inside and out. Maybe it is also time to look at how we feel in our own skin, the clothes and colors we wear. Colors hold vibrations and energy.
We may look this year also at a more healthful and sustainable way of living and eating. Start a little garden or participate in a community garden. When we love ourselves we are more mindful of what we put into our body. We are enough just as we are, full and complete.'
The Empress knows how to enjoy herself. Sensual and earthy, her realm is of sensory and ecstatic pleasures – food and drink, touch, smell, taste, beauty and sex. She's associated with Venus – the goddess of love, beauty and art – and is a powerful, passionate lover ~ Beth Maiden
The Empress is shown on her card dressed beautifully sitting on a plush red pillow; a message to feel passionate about life. We may take up a new hobby to bring out our creativity and feel passion. She reminds us to nurture our beliefs and support ourselves and others. But most importantly she encourages us not to give our power away! When we give too much, in an unbalanced way, we don't have anything left to give to ourselves or to others.
Use the Tarot archetypes of The Hanged Man and Empress this year to enrich your life. It might be a time to pause and examine your old beliefs about having what you desire; to rethink and reexamine. Sometimes these beliefs come from our family, ancestors or past lives, and it holds us back from a life fulfilled and well-lived. We can take a break from our everyday lives to connect to our true, ancient self that knows what is possible. It's time to expand.
Make new choices this year based on who you are becoming, rather than on who you were in your past. By stepping into the shoes of the Empress we can be love, and appreciate the beauty all around us. This is an amazing attraction factor! By embodying her archetype we will feel it, and others will feel it too.

About The Author: Maggie

Maggie helps people turn the radio dial up on their vibrations to hear the messages you're meant to receive. It all began as a teen with a dog-walking job in the neighborhood that—if you'll excuse the pun—unleashed Maggie's innate Gifts as a powerful Intuitive Reader. What followed was a rewarding career as a Tarot Reader, Numerologist, Reiki Master, and Angel Card Reader—to name just a few of her remarkable skills. Maggie's accomplishments include on-air co-host for Blogtalk Radio, several published articles on Tarot and Numerology, she's an endorsed reader for The Tarot Guild, and a much sought after Intuitive Reader hired for both corporate and private events. In addition, she has a YouTube channel where you can view and subscribe to her weekly vibes. If you'd like to personally tune-in to Maggie's unique and highly accurate vibe, for yourself, you can find her at PsychicAccess.com.