Integrating Light And Shifting Your Reality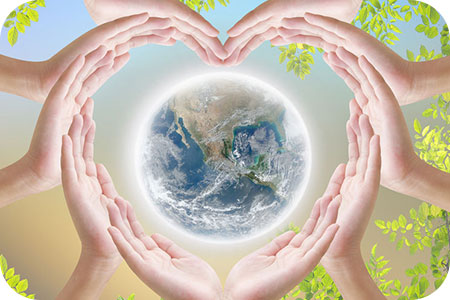 In the current cycle of human existence, we are considered to have existed primarily through the 3rd and 4th dimensions of physicality in time. Recently, talk of Mother Earth and her inhabitants moving from the 3rd to 5th dimension has become a big topic in the field of metaphysics and spirituality, and many consider this shift to be occurring right now.
The 5th dimension can be defined as "heart consciousness" with the 6th being… "oneness with source"… or the miracle space. It is that place of true peace within the 5D-6D space where there is a dramatic increase in an individual's power of creating and manifesting their reality.
In the 5D-6D realm of consciousness, one can connect to your etheric body, higher self and God source, in the form of intuitive energy through the extra-sensory pathways of clairvoyance, clairsentience, clairaudience, claircognizance, and the other psychic senses.
It seems undeniable that collectively we have dramatically increased in our frequency, intuitive connections and ability to see through the veils of lies and deceit that shroud the planet. However, in order to truly absorb and maximize these more esoteric abilities, it requires shedding of the 3D weight of duality and ego.
As the Light energy increases on the Earth, exposing of the shadows is inevitable, requiring each individual to be willing to do whatever work is necessary to detach from their own ego story or narrative and move to a place of integration of self in to the high 5D-6D light energy.
Yesterday we obeyed kings and bent our necks before emperors. But today we kneel only to truth, follow only beauty, and obey only love ~ Khalil Gibran
To accomplish this is to move further along the path of personal enlightenment or inner peace. Freeing yourself from the conditioning and domestication of society, while integrating the shadow self, is where true personal power lies. It is this individual freedom that is essential to facilitating the learning and higher energies required to shift beyond the current limited human existence. From this place we can walk between the worlds, incorporating the higher vibrational light energies or 5D-6D frequencies in to our 3D reality, anchoring the higher realms into our daily reality.
Now is the time to tap into, and work with, the Angels, your spirit guides and higher self for guidance and assistance on your personal path. Anchor in the higher vibrations and watch your outer world shift and change to match what is really true for you.

About The Author: Suzenn

Suzenn is a gifted intuitive reader, channel, counselor and guide, and is currently a staple at two local fairs in Texas, where she currently resides. She has been providing accurate readings for over twenty-two years, and she has followed the synchronicities that have led her to new and exciting territories, outside the norm. Her practice has included readings at a large metaphysical bookstore, at conventions, and for clients on-line, all of which have helped her to cultivate an established client base. Clients include CEOs, fitness personalities, and she's the reader that other psychics go to for advice! Her readings include remote energy sessions, Mediumship, inner child healing, chakra balancing and psych-soma healing. If you'd like to experience a major shift in your life, release past trauma, or just be able to embrace your inner child, you'll not encounter a more caring, non-judgmental, and uniquely gifted reader. You can find Suzenn at PsychicAccess.com.


One Response to Integrating Light And Shifting Your Reality