I Have Looked At Life From Both Sides Now – Part 4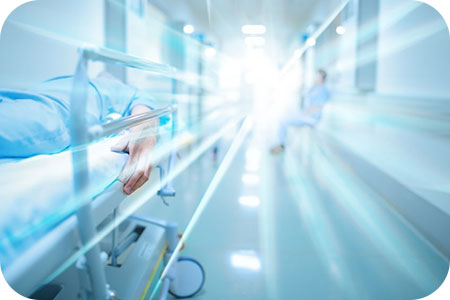 Continued from Part 3
But first things first! I missed my daughters. I needed to see them again. I concentrated and in the blink of an eye I was standing by the two of them. They were attending a funeral? Then I realized that it was my own!
I am advanced enough to not be in the confusion of this period. Their very sadness had drawn me extremely quickly to them. I tried to convey to them that I was there with them. I really wasn't that funny 'dummy' of a woman lying in that coffin. They had dressed me in a white Swiss Dot gown with a red hearts design on it, and I was a pair of wearing red heels. It was so charming that they even placed my personal crystals on top of me.
Also, my animals were also present at the funeral. They had my favorite three puppies and five kittens placed in the casket with me. They cuddled my body. My only thought of comfort witnessing this was that they would all one day be back with me in spirit form. They were really sensing me being with them. It felt good.
The Being of Light presents the dying with a panoramic review of everything they have ever done. That is, they relive every act they have ever done to other people and come away feeling that love is the most important thing in life ~ Dr. Raymond Moody
Then I left my family and animals and I met up with Brigid. Soon, I would be meeting with the Board of Elders, for my life review. Now, understand this: there would be no judgment from them, just guidance to be given on how to continue with my soul's progression.
Before meeting with them I was to face a special test, set up in the astral world. I had to learn how to let go of depression. All of my life's moments of despair and hopelessness had to be faced, and I had to see it for the illusion that it really was. Just a creation of my own mind. Once I realize this, I would be ready to set up my next earthly incarnation.
I was now being led in a hallway to a large, red door… which turned black as I turned the handle to open. As soon as I entered the dark room, the Rolling Stones song, Paint It Black started playing loudly. This did sum up my earthly life's depression. I thought of the many sad situations that I had experienced. Gradually the room became lighter and lighter, as I let each experience go. Once I let go of all the sadness, I left again through the same red door.
About The Author: Gabrielle-Claire

Gabrielle-Claire is basically a spiritualist psychic reader. She gives the messages that her guides are giving her. She is also a gifted psychic healer and works with a senior member of the Aquarian Foundation. She gives readings and healings at her home, and also at a shop near to where she lives. You can have a reading from her at Psychic Access.com.