The Season To Restore Harmony And Balance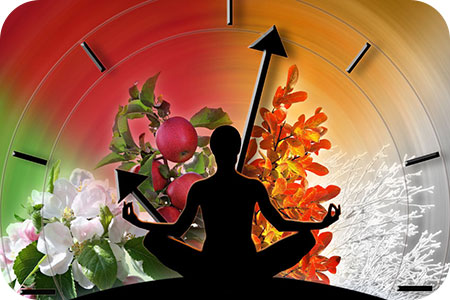 The Wheel of the Year is turning again after last month's Autumn Equinox in the Northern Hemisphere and Spring Equinox in the Southern Hemisphere. One can now feel a shift in the air. In both of these seasons I usually feel this change in my body, along with emotions of hope and excitement.
One of my favorite movies to watch again as Autumn approaches is, You've Got Mail. Yes, I'm a romantic. To quote the film, "Don't you love New York in the Fall? It makes me want to buy school supplies. I would send you a bouquet of newly-sharpened pencils if I knew your name and address. On the other hand, this not knowing has its charms."
In Astrology, most of the planets are now direct again, or moving forward, with the exception of Uranus and Neptune, and we are clear of Mercury Retrograde until mid-November. And Mars is getting back up to speed;, helping with the forward movement.
Also at the time of the Equinox, the Sun entered Libra – the energy of creating a greater harmony and balance in our lives, especially in relationships with our family, friends, work and home. Venus is Libra's ruling planet and we are currently blessed with her beauty and charm in every area of our lives.
To every thing there is a season, and a time to every purpose under the heaven ~ Ecclesiastes 3:1
Libras are amazing negotiators, mediators, and all about forming partnerships and being advocates for balance and justice. The Archangel that is associated with Libra is Jophiel, the Angel of Beauty. She's also often referred to as the 'Feng Shui Angel,' which is perfect to bring balance in our environment. Libra's Tarot card association is Justice.
This is the time to look where we might be out of balance and seek the truth. This is a time when we should practice grounding ourselves. The choices we make create the karma for our future, which makes it a good time for forgiveness and to make amends.
This is also the time to do space clearing and decluttering in our homes and offices, to prepare for a new season. We can then set an intention for this new season. This is a good time to introduce new colors, table coverings, fun pillows, and flowers, and change up and recharge our crystals for the different rooms in the home and office.
Ringing a bell is a great tool to re-balance crystals and it also clears any stale energy in the room. I also change up my altars, both ancestral and spiritual, to celebrate the new season. The garden can be tended to, which connects us not only to the meaning of the season, but to the earth. Taking some walkabouts outside allow our body to experience the change too. You may decide to take yourself outside to do your Yoga, Gigong or other restorative exercises.
You can learn new things at any time in your life if you're willing to be a beginner. If you actually learn to like being a beginner, the whole world opens up to you ~  Barbara Sher
For me this is also the time to enroll in classes, both educational and fun. If there is something not offered in your area, there are many courses you can take online or through platforms where you can interact with the instructor and students. You just never know who you'll meet too! Brain science has shown that when we remain curious and continue to learn new skills, we strengthen existing connections in the brain and forge new ones. One important caveat is make them fun!
I wish you love, hope, abundance, and well-being in this new season on the Wheel. My blessing for each one of us is a favorite Celtic blessing, also sung in Kundalini Yoga classes: "May the long time sun shine upon you, all love surround you, and the pure light within you, guide your way on."

About The Author: Maggie

Maggie helps people turn the radio dial up on their vibrations to hear the messages you're meant to receive. It all began as a teen with a dog-walking job in the neighborhood that—if you'll excuse the pun—unleashed Maggie's innate Gifts as a powerful Intuitive Reader. What followed was a rewarding career as a Tarot Reader, Numerologist, Reiki Master, and Angel Card Reader—to name just a few of her remarkable skills. Maggie's accomplishments include on-air co-host for Blogtalk Radio, several published articles on Tarot and Numerology, she's an endorsed reader for The Tarot Guild, and a much sought after Intuitive Reader hired for both corporate and private events. In addition, she has a YouTube channel where you can view and subscribe to her weekly vibes. If you'd like to personally tune-in to Maggie's unique and highly accurate vibe, for yourself, you can find her at PsychicAccess.com.