I Have Looked At Life From Both Sides Now – Part 1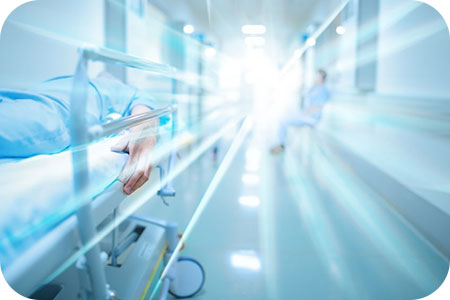 I can truly say that I have looked at life from both sides now. It all begins the day I wake up in a hospital. I have some tubing connected to me. I am feeling so, so tired, but I am comfortable. I am wrapped up in a warm, white blanket. At first I don't remember how I came to be here. But little by little my memory is returning.
It all happened so quickly. There was a routine visit to the doctor about three months ago. He did a complete examination and while he was pressing in the left area of my lower abdomen, I suddenly experienced intense pain. The whole area was extremely sensitive. So, he ordered some tests, and a sonogram was done.
Much to my astonishment, tumors were found on both ovaries, as well as in the pelvic region. Tissue samples were extracted for a biopsy and I ultimately received the unpleasant news that cancer cells were found. Also, they were multiplying quite fast.
I believe that the greatest truths of the universe don't lie outside, in the study of the stars and the planets. They lie deep within us, in the magnificence of our heart, mind, and soul. Until we understand what is within, we can't understand what is without ~ Anita Moorjani
I had been working hard lately, but my general health seemed to be okay. I really didn't experience any pain in this area of my body, but overall my body had been feeling sore and tender, and I was constantly tired.
I ran my own animal sanctuary. This was for domestic pets who were abused, lost, and abandoned. Most were dogs and cats, some parrots, iguanas, and even two baby alligators headed to a wild life preserve in Florida. Each and every one of them gave me pleasure to be able to nurse them back to health, and happiness.
I can't take all of the credit, as I have some good people working for me. They gave those animals the attention and love that they so dearly needed. All of my adult life, I scrimped and saved to be able to do this one day, and when my spouse Andrew passed, I used the insurance money. I also had a few investment backers to help me out.
About The Author: Gabrielle-Claire

Gabrielle-Claire is a spiritualist psychic reader who channels the messages her Guides provide. She is also a gifted psychic healer who has studied with some of the finest metaphysical teachers, including a renowned healer of the Aquarian Foundation. Through her connection with the evolved souls of her Guides and Ascended Masters, she is able to put all of her numerous skills and gifts to great use, providing answers and healing energy to clients, and helping them to find their own hidden talents and abilities. You can have a life-transforming reading with her today at PsychicAccess.com.