Live Your Wild, Precious Life!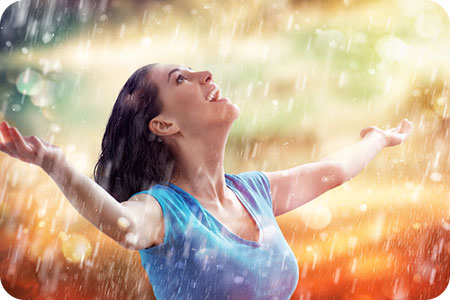 "Tell me, what is it you plan to do with your one wild and precious life?" These words by Mary Oliver is my favorite inspirational quote, which I even use as the postscript in all my letters and emails. No matter our age, we will always have desires. They are an important part of what our soul came here to learn and experience.
In this life we go through it all: love, loss, sickness, grief, anger, hope, and joy. Some of our challenges can knock us off our game and leave us in the land of the lost.  We can feel like giving up on love, our dreams and desires, and numb out.
Before the movie The Bucket List was released, I was planning a transition from a fast-paced engineering job. I was contemplating early retirement and I wanted to take some gap time before going full-time in my metaphysical business.
I started out in life working toward a degree in Psychology and I loved helping clients be present during the liminal times or  'in-between worlds' when they were figuring out what is calling to their soul. Strangely this was how much of my life would be lived, as I moved about through romantic breakups, travel for work, and career changes.
But now it was my time again to sit in the seat and space as the client. My mother had also suddenly passed away, so I was becoming aware of how precious time really is. At this point in my life, I sought out a psychologist to help me figure out how I could afford to early retire and take the gap time, before launching my spiritual business, which I had engaged in part-time throughout my life. Since I knew the answers would really have to come through me, she was merely my guide.
All life is an experiment. The more experiments you make the better ~ Ralph Waldo Emerson
As the sessions progressed, it was more of a conversation between the two of us about desire. And I told myself no matter what desire would come up, I would not judge it. Also, I would not allow any shame for what I didn't achieve in the past or any feelings of not being enough. Neither was I going to regret impossibility thinking and poor choices that created shadows on my quest. I might look at the 'why,' to gain a greater understanding of where I was then, or my perceived limiting beliefs, knowing I was doing the best at the time.
I was first drawn to work with elders and hospice, inspired from my internship during college and my mother's sudden transition.  I decided to spend some time in this field part-time. From the exposure to the ageing and dying experience, I learned how to live more vibrantly and met souls that have changed my life forever.
In the 60s in Washington, D.C. I was intensely interested in parapsychology and the Duke Parapsychology Laboratory in Durham, North Carolina, where Professor J. B. Rhine delved into the experimental science of parapsychology. One of the areas that was fascinating to me were the Zener cards. Professor Rhine and his staff conducted experiments for extrasensory perception (ESP) and clairvoyance.
One of my clients in hospice had studied professionally with Professor Rhine at Duke, working on his Master's degree back in the 1950s. He was also his assistant. We had wonderful conversations about paranormal phenomena and his views on the matter. It's now called the Rhine Research Center. My time with all the clients I met was and is still a treasure to me for their own unique lives and their stories.
During my therapy sessions I spoke about my love of working in the library, during my school years for extra income. And then an opportunity for part-time job in a local book shop appeared.  I loved being around books, reading the early released editions and seeing the regulars who came in, not only to purchase books, but to chat, participate in the meet-up groups, and enjoy tea and coffee. And the added benefit was participating in Harry Potter book release parties, including dressing up and giving readings to the customers!
The saddest summary of a life contains three descriptions: could have, might have, and should have ~ Louis E. Boone
Then there was a desire to travel on a reasonable budget. I had traveled outside the US in the past, but not so much inside the US, except for my moves with work and relationships. So, I found a used RV that I could hook my little VW Bug to, and became somewhat of a part-time nomad with my dogs. At this time I had started my metaphysical business full-time and could work via phone, Skype, email. I was also invited to do in-person gallery readings for private clients and parties along the way. The places and friends I met are precious memories and many of my clients are still with me.
There were more desires achieved, and all that I spoke about in those sessions came to pass – even ones that were little surprises and miracles over a decade. The biggest and longest desire in my life was to have a partner and live near the ocean. I now live ten days inland and ten days at the ocean with a man I love, and I can work and see clients in both places.
We all came here to create a 'wild and precious life,' so it's never too early, or too late to have new desires, or a bucket list! Don't let anything stand in your way, no matter how messy or seemingly impossible life seems to be right now. Start living your wild, precious life!

About The Author: Maggie

Maggie helps people turn the radio dial up on their vibrations to hear the messages you're meant to receive. It all began as a teen with a dog-walking job in the neighborhood that—if you'll excuse the pun—unleashed Maggie's innate Gifts as a powerful Intuitive Reader. What followed was a rewarding career as a Tarot Reader, Numerologist, Reiki Master, and Angel Card Reader—to name just a few of her remarkable skills. Maggie's accomplishments include on-air co-host for Blogtalk Radio, several published articles on Tarot and Numerology, she's an endorsed reader for The Tarot Guild, and a much sought after Intuitive Reader hired for both corporate and private events. In addition, she has a YouTube channel where you can view and subscribe to her weekly vibes. If you'd like to personally tune-in to Maggie's unique and highly accurate vibe, for yourself, you can find her at PsychicAccess.com.