Finding Your Tribe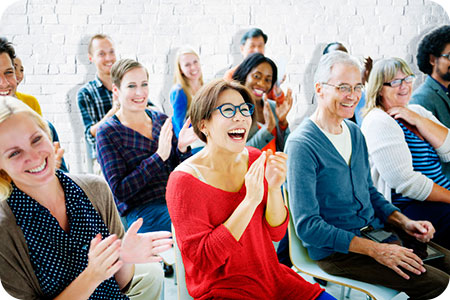 After returning from a Tarot conference recently, I thought about how being in community with like-minded souls raises our individual and collective vibration. It inspires and supports us in many ways. To show up and be seen gets our creative juices flowing, assists us to dream a new dream, dust off that idea or project we put on the shelf, meet new people, and it speaks volumes about self-care and extending a hand to others. It reminded me of the African Proverb: "If you want to travel fast, go alone. If you want to travel far, go together."
Being part of a community that is involved with the things we love puts us back in the flow of life. It is one of many reminders that we are not alone and challenges us to say yes to life. It assists us in examining how we are showing up for not only our life, but for others. It brings us back on the path of our life purpose. We see or hear the challenges others are going through and become inspired by their bravery. We as individuals and a community then find ways to support each other not only through the challenging times, but in our accomplishments or works in progress. We are all unique souls coming together, with others making a space for us to celebrate who we are and what we create.
Often we look around and see people who we perceive have more talent, or are further along on the path, which may give us the tendency to hold back with our ideas or projects, feeling they are not perfect. The  following lyrics by Leonard Cohen has been a reminder to me that I am exactly where I need to be and have the perfect offering.
Call it a clan, call it a network, call it a tribe, call it a family: Whatever you call it, whoever you are, you need one ~ Jane Howard
Ring the bells that still can ring
Forget your perfect offering
There is a crack in everything
That's how the light gets in.
Going to a conference or seminar can be a metaphor for life. There's all the workshops and lectures going on during the day, evening trips or extended stays to explore the area, and evening sessions that are being offered by master teachers. Not to mention all the socializing in-between with old friends, and meeting new ones.
In fact, it is sometimes difficult to choose. At some conferences the program even mentions how to take care of yourself, as the experience can be sensory overload if you try to pack everything in. This is especially true for intuitives and sensitives. So, yes it's like life – a bit of a dance.
This is where self-care comes into play for our mind, body and soul and what self-care is like for each one of us. It could be scheduling a massage, or just taking time, even an hour, for a time of silence in your room or quiet space. Or something as simple as a soak in the tub, or a nap to feel refreshed.
Your tribe will accept you for who you are. They will be your support system, your cheering squad, and will provide you with a sense of community that you will be hard-pressed to find elsewhere ~ Kara Benz
We often choose our community or tribe, and yes sometimes it chooses us. Or it could be the passion we have for something that draws us to this community. This is where the juice of life is. This is where we see people who mirror ourselves or even the other who has come to assist us on our path, before we took our earth suit, with a lesson we have chosen to learn here.
Community can give us faith, especially in our complex world where sometimes we don't know what we can do. So be allowing, turn to Source energy, have faith and trust, for in community we are in the miracle zone.

About The Author: Maggie

Maggie helps people turn the radio dial up on their vibrations to hear the messages you're meant to receive. It all began as a teen with a dog-walking job in the neighborhood that—if you'll excuse the pun—unleashed Maggie's innate Gifts as a powerful Intuitive Reader. What followed was a rewarding career as a Tarot Reader, Numerologist, Reiki Master, and Angel Card Reader—to name just a few of her remarkable skills. Maggie's accomplishments include on-air co-host for Blogtalk Radio, several published articles on Tarot and Numerology, she's an endorsed reader for The Tarot Guild, and a much sought after Intuitive Reader hired for both corporate and private events. In addition, she has a YouTube channel where you can view and subscribe to her weekly vibes. If you'd like to personally tune-in to Maggie's unique and highly accurate vibe, for yourself, you can find her at PsychicAccess.com.