A 'Black Belt' In Psychic Prowess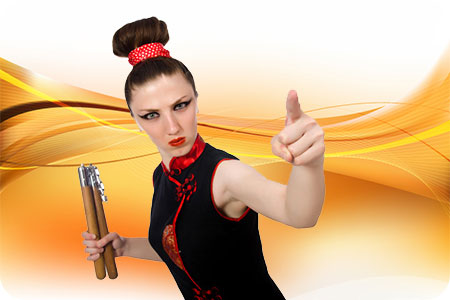 I am a psychic medium, but I do not like to be categorized as a 'world-renowned' this… or a 'seventh generation' that… or even as a 'third degree, black belted, sumo' something! I do feel that the very concept of labeling psychic work in this way is somewhat superficial, and unnecessarily competitive. We are not in a Kung Fu class competing for a world title.
True psychics are gifted by God, or whatever you personal understanding is of a Higher Power, or the Divine. It is the psychic's purpose in life to be of service to others and guide them on their path. And although it is spiritual work, we also need to earn a living. In today's world no one is going to bring us a bushel of corn, or a crate of apples to live on, like they used to do in the old days. We obviously need to be financially compensated for our time, to cover our living expenses.
But sometimes people in this field of work will choose a life of fame and fortune. When going this route they have to be very careful of not letting the ego get into the way. I have seen a few 'gurus' go off course this way. They become 'gods' in their own minds and they expect to be revered and worshipped by others.
I am not kidding. I personally know someone who listens to the weather forecast, and then claims he is the one controlling the weather. One time the forecast predicted the day before that our area wouldn't be hit that badly. He then told me not to worry… that he was going to push away that approaching storm with his psychic powers! And after the storm had passed, Mr. Miracle Man called me and said, "See what I did! See how powerful I am?" True story.
All works are being done by the energy and power of nature, but due to delusion of ego people assume themselves to be the doer ~ Bhagavad Gita
I also know a Wiccan lady who started out good, but as soon as she published a few books, she became a 'goddess.' She somehow forgot where she came from, and now charges a fortune for her work and expect others to worship at her feet. Fortunately, none of these people work at Psychic Access.
I feel all psychics and mediums should do reality checks once in a while, to make sure that they are still working for the greater good, and the healing of humanity – the way it should be.
I am a psychic healer. I am a medium. And I am a channel. I also have a Saint who appears to me, and other special visions of a spiritual and metaphysical nature. I thank the Creator for this. I choose my life to be a life of service. I do not wish to be famous, or become a millionaire. Neither do I wish to be awarded a 'black belt' in psychic prowess. I am overjoyed and feel rewarded when a former client simply tells me, "You did good for me."

About The Author: Gabrielle-Claire

Gabrielle-Claire is a spiritualist psychic reader who channels the messages her Guides provide. She is also a gifted psychic healer who has studied with some of the finest metaphysical teachers, including a renowned healer of the Aquarian Foundation. Through her connection with the evolved souls of her Guides and Ascended Masters, she is able to put all of her numerous skills and gifts to great use, providing answers and healing energy to clients, and helping them to find their own hidden talents and abilities. You can have a life-transforming reading with her today at PsychicAccess.com.