New Doors Will Open in 2017!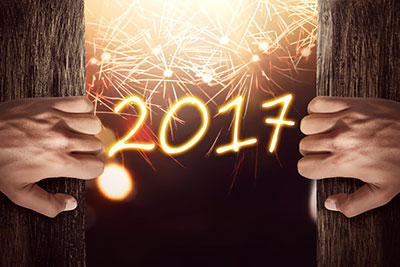 From a numerological perspective, I am taking a peek today into the universal energy for 2017. You can use this information to set yourself up for success, become a powerful creator, and make 2017 your best year!
No matter what's happened in the past, as we can often feel like the last Unicorn, make this your year. This planet needs you to step out and make your dreams come true. People need more dreams – that is how our world will be healed. To become powerful creators, we must nurture ourselves and our dreams. Yes, you are a powerful creator of your life experience, and yes, you can make your dreams and desires come true.
First, we need to look back on 2016, so we'll know where we're coming from, before we peek into the energy for 2017.
Be sure to set plenty of goals for 2017, the energy will be there to carry them into the future…. A powerful year to start new projects as the energy gives them a kick start ~ Ian Scott
All things in the Universe have vibrations and energy. Our bodies, the objects around us, empty space, and even numbers and our names. Numerology is the study of numbers and their vibration, and how this energy affects our lives. I use the Western numerology system of 9 numbers, which originated from Pythagoras, the famous Greek mathematician and philosopher. He is considered by some to be the Father of Numerology.
To calculate 2016 you add all the digits in 2016. So, 2+0+1+6 equals 9. Nine in Numerology is the last year in a 9 year cycle. The energy for us in a 9 year is to complete what we have started during the cycle.
Imagine you have been moving up a trail that is slightly elevated. Turn around and look back and look at where you have been: the places, your accomplishments, and lessons. You have come far. Acknowledge those experiences. Reevalue who and what will remain in your life. Many people also start thinking about moving in a 9 year.
The end of this year is the perfect time to clear out what no longer serves you, so you can start fresh in 2017 – which will be a 1 year! It's a time to clear out the clutter, literally, and take an internal selfie and look at what you no longer need to hold. And since a 9 year is about releasing, you can ask those powerful questions:
What is it costing me to hold on to…?
What am I putting my focus on?
What do I need to reach my goals? 
How do I claim my own inner resources?
Now, in your mind's eye turn toward the trail, the future, and envision what you would like to do going forward, and where you see yourself.
As our year 2016 winds down to an end, take the time to acknowledge how far you have come over the last 9 years; reflect on your lessons/learnings this past cycle, embrace the wisdoms gained/re-remembered and be grateful (a '9' number) for all the joyous moments in your life ~ Simone M Matthews
The year 2017 is a 1 energy, which signifies a new beginnings, new opportunities, a new cycle. It's the Magician year in the Tarot. The 1 is about planting new seeds that will bring freedom and independence, being the best we can be and staying out of the Ego and coming from the heart instead.
Since 1 is one of the 'mind numbers' in Numerology, we need movement to get us out of our head sometimes, and to avoid burnout. Why not try a new skill or class in the new year, Qi Gong, Yoga, Ecstatic Dance, or simply get out and walk more in nature. If you have a dog, they are great companions and encouragers. Just like the Magician, the key card in Tarot, we have all the skills we need and now it's time to take the next step. It's show time!
Next year's 1 is our call to adventure, a vision, a quest.  Doors will open for you where there are currently no doors.  Find the parts of your soul, your song, your unique way of expressing yourself. We are called to be responsible for our own adventure. In every hero's journey there is something that has to metaphorically die for something else to live. Just like the phoenix rises for the ashes, it gives way to some new form.  Something has to go for something new.  The snake that does not shed its skin, dies. As Joseph Campbell said, "We must be willing to get rid of the life we planned, so as to have the life that is waiting for us."
So, release what is not longer relevant and in 2017 live your great adventure!

About The Author: Maggie

Maggie helps people turn the radio dial up on their vibrations to hear the messages you're meant to receive. It all began as a teen with a dog-walking job in the neighborhood that—if you'll excuse the pun—unleashed Maggie's innate Gifts as a powerful Intuitive Reader. What followed was a rewarding career as a Tarot Reader, Numerologist, Reiki Master, and Angel Card Reader—to name just a few of her remarkable skills. Maggie's accomplishments include on-air co-host for Blogtalk Radio, several published articles on Tarot and Numerology, she's an endorsed reader for The Tarot Guild, and a much sought after Intuitive Reader hired for both corporate and private events. In addition, she has a YouTube channel where you can view and subscribe to her weekly vibes. If you'd like to personally tune-in to Maggie's unique and highly accurate vibe, for yourself, you can find her at PsychicAccess.com.