Between Happy And Sad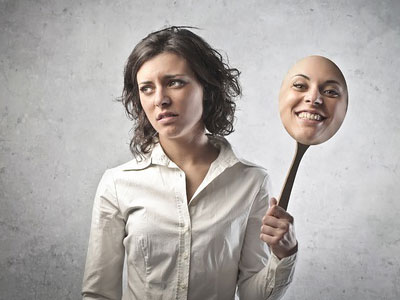 There is natural balance between pain and pleasure. Yes, we need to be hopeful, choose happy, and be positive. But what if you are sad, or depressed?
The students that committed suicide at the colleges where I taught were always the brightest stars, known for being happy, and helpful to others. People were always shocked when they chose suicide.
America worships 'happy' and 'positive attitude.' What is our aversion to the so-called 'negative'? Why are we rejected for being a 'downer'?
If a person is truly happy and content from the inside out, someone else's upset mood, depression or anxiety will not affect you! People react badly to 'negativity' because it stirs up their own unresolved issues. It makes them feel their unresolved issues.
Even a happy life cannot be without a measure of darkness, and the word happy would lose its meaning if it were not balanced by sadness. It is far better to take things as they come along with patience and equanimity ~ Carl Jung
The great sadness for me is that sad people have nowhere to turn to and share, except maybe a 12-step meeting or a therapist's office. So many people are layering a false positive over a stinking swamp of fear, depression, anxiety and other 'unacceptable' feelings.
Spiritual work, meditation, and psychic readings all help us to burn through the dark 'gunk' that we hide from others, and often from ourselves. When we are authentically balanced, then we can enjoy all the weather we experience as a human. A bad day can be just like rainy weather. A bad time can be like winter storms. It doesn't have to be 'negative' – make hot chocolate and cozy down.
When we are clear, we don't have to insist on 'happy.' We find happy everywhere, in every experience. And we should welcome the variety life has to offer, all the ups and downs, all kinds of weather. If we are balanced, sad people; or happy people having a sad time, we don't have to hide, or fear rejection. And that is a happy situation for all.

About The Author: Nonna

Nonna lives in Southern California, and is a professor of psychology and a teacher of psychic development, energy work and meditation, who has recently finished her PhD. She has been a counselor for both humans and animals for thirty years, removing energy blocks through her expertise in the spiritual arts. She also has numerous years of study and practice with classic psychological therapeutic models, family work, twelve-step processes, nutritional and body/mind/spirit healing, complementary, alternative, and quantum medicine. Nonna is brilliant at unearthing the gems in every client's soul and polishing them to a fine finish. To release your own soul's sparkle, contact Nonna at PsychicAccess.com.