The Calling Of The Angels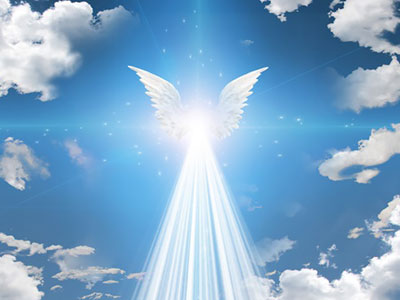 Angels are here to support, guide and comfort us in our daily lives, not to live our lives for us, or make decisions on our behalf. We grow in strength, wisdom, character and self-esteem when we face and overcome challenges.
There are of course many stories of angels intervening in life-threatening situations, which is wonderful. This phenomenon has been well-documented.
Over the years, I have seen time and time again that some of the key primary purposes of the angels in our lives is to remind and reinforce for us that we:
are not alone;
we can and will overcome the challenge that is in front of us at the moment;
we can link back into the best part of our hearts, which is where our true strength lies. It is that part of us which they hold sacred for us.
If trouble hearing angels' song with thine ears, try listening with thy heart ~ Terri Guillemets
They have known us since before we were born, watched over us as we have gone through triumph and tragedy. They are ever vigilant, always cheering us on, guiding us with signs and feelings towards our hearts desire. They are unwavering in their belief in our ability to rise to the full expression of our hearts in this life.
The angels are friend to all, regardless of beliefs or dogmas. Truly they are here to serve. More often than not they are subtle and their voices come through in feelings of comfort, love, peace, or a very deep sense that a course of action we are about to embark on is either joyous, or dangerous.
They are not our judge, nor jury. They are always our advocates, without question. While they cannot interfere in the consequences of our choices, they can support and help us heal, learn from our choices, and create more happiness and success.
They do not hold power over us, but remind us, and desire to show us the power within us. That power has its roots in our daily choices. How we treat ourselves, how forgiving we are with others, how we share ourselves with those less fortunate than us, and most importantly how we treat those we claim to love.
Respect, gratitude, honor, integrity, joy… calling these qualities forth from us is why they are here. Our physical expression of these things are what grounds love and all the things that spring from love in this realm. This is truly the calling of the angels in our lives.

About The Author: Angelic Heights

Empathic, intuitive, psychic from a very young age, Angelic Heights (Gail) learned well the importance of using her gifts for the highest good. Marriage and a career in the paralegal field occupied her until her early 30's. Accurate, compassionate and direct, her focus now is entirely on enlightening, uplifting, inspiring and guiding those who seek her counsel. Get a reading right now with her at PsychicAccess.com