Supported By Spirit – Part 2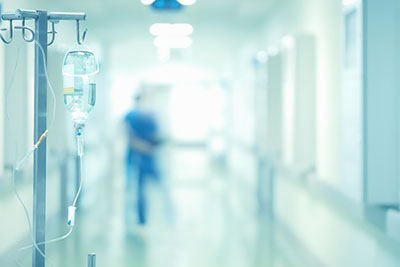 Continued from Supported By Spirit – Part 1
I had arrived at the hospital on a Friday night. My foot operation was on Saturday afternoon. However, the shoulder surgery was so complicated that it had to wait until the specialist returned from a weekend conference late that Sunday. Luckily, he was able to save two of the four shattered pieces and I was given a metal prosthesis.
I had never been in a hospital before, except to visit family and friends, so I had no idea what to expect. I assumed that my bones would heal quickly and that I would be back to work, travelling coast-to-coast, in eight weeks. Little did I know that I would remain in the first hospital for three weeks and then transfer to a second hospital, halfway across the country, in my own city, for over two weeks. I certainly didn't expect to live in a nursing home for an additional three months, before being discharged for 46 weeks of grueling physiotherapy.
Sometimes in tragedy we find our life's purpose — the eye sheds a tear to find its focus ~Robert Brault
The transfer between cities was devastating. Before my discharge was formalized, the hospital transition co-ordinator had left for the long weekend, so no-one was available to arrange all the special medical flight details. A last-minute flight had been booked by my company's head office, however, they didn't indicate that it was a medical flight, so I was delayed at check-in while the airline communicated with their doctors to get flight approval.
At this point, I had not been out of bed for three weeks, other than to pivot to a wheelchair, so being transported to the airport by ambulance and loaded onto the plane in a forklift-type vehicle was a painful and frightening experience. Even the vibration as the plane taxied for takeoff was excruciating.
When we landed in my city, there was no ambulance waiting for me, so I was stranded for three hours, trying to find a way to get to a specific hospital. Ambulances called to the airport will transport patients only to the nearest hospital. When I called the hospital's emergency department and indicated that I had transfer papers for admission, I was told not to come to the hospital, because my surgery had occurred three weeks beforehand, so I was no longer an emergency patient.
At long last, a friend drove me in her little car and I was admitted immediately. As it turned out, the triage nurse explained that I could have come in to emergency as a heart patient, because my blood pressure at that time was 198/92. It should be 120/80!
The hospital was overcrowded, due to the long weekend, so I slept in a hallway the first night and was moved to the kidney ward as a last resort on the following day. In my room were two palliative patients who were on the verge of passing to Spirit.
Adversity is like a strong wind. It tears away from us all but the things that cannot be torn, so that we see ourselves as we really are ~ Arthur Golden
The nurses weren't used to anyone who could speak or ring a call bell from that room, and I found that they were often too busy to come to my room in a timely manner. I managed to commandeer a wheelchair that was left against the wall near my bed, and I used my previous pivoting expertise to get out of bed and over to the bathroom on my own.
During this most difficult time, I did call the nurses whenever either of my elderly roommates was in great distress. After a week or two, these beautiful women each passed to Spirit. Both families returned to the hospital to thank me for my help. They didn't realize that I had been able to draw Spirit forward to send love and light to their mothers. They had no idea that I was working with Spirit to ease their mothers' passing.
Although I was placed in the kidney wing, because there was no room elsewhere in the hospital, it turned out that I was in the right place at the right time in order to help ease two transitions. Upon reflection, I had part of the answer as to why I had experienced such a devastating accident.
The rest of the answer was yet to come!
Continue to Supported By Spirit – Part 3

About The Author: Monica

"What you think about, you bring about; what you believe, you become." This is Monica's philosophy, derived from her twenty-five years of experience as a Clairvoyant, Light Worker and Medium, living in Ontario, Canada. Monica has been a guest speaker at various Spiritualist churches, conveying Spirit greetings and messages from loved ones during Sunday services, All Mediums Nights, Healing Services, Meditation Services and special fundraising events. She's been an advisor to several international business leaders and connects with all of her clients on a level of love light and empathy. She delivers messages containing ideal outcomes and positive solutions with the help of her guides. If you'd like Monica to help shape your destiny, you can find her at PsychicAccess.com.