Take Back Your Life!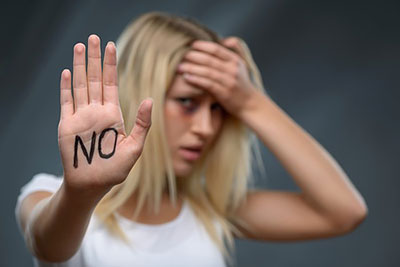 My mother used to say, "It takes a lifetime to learn how to live." She had a lot of these wise sayings, that we in our family call "Nanaisms". My mother was right. Today, time seems to be moving at a faster pace, and we have access to more information, yet also more demands are being placed on our time. Does it have to be that way?
Do you feel like you have to say "yes" all the time or just go along with others, so you don't hurt anyone's feelings? Are you constantly trying to keep everyone happy? By continuing this behavior you can lose pieces of yourself in the process. This is especially true if you are one of the "sensitives" – those of us that feel more deeply and are also blessed with heightened intuition.
Assertiveness is not what you do, it's who you are! ~ Shakti Gawain
If you are reading this, you probably feel this way some of the time. I looked down at my heart at times in the past, and felt like I had given pieces of it away. I pleased nobody in the end, especially not myself.
People pleasing begins slowly. You don't pay it much attention in the beginning. You tend to see some red flags early on, but instead you look the other way. Before you know it, your life is no longer your own. The good news is you no longer have to travel on this same path. The solution is to start asserting yourself in a healthy way.
The practice of being assertive can actually assist you to improve your health and lose any extra pounds, as stress and drama are not your a friends.
Start with feeling comfortable and confident, saying "no" when it's just not what you really want. After all, "no" is a complete sentence. Expressing what you want does not have to come off as you being aggressive or manipulative. There is no need to go the passive-aggressive route. It's also much more constructive and informative to express what you would really enjoy doing, if someone asks you, rather than saying "it doesn't really matter".
At first your newly found assertiveness might surprise people in your life – family, co-workers, or your circle of friends. You might be a master at being assertive at work, but maybe not so much in your personal life. Or it could be the other way around.
We delight in the beauty of the butterfly, but rarely admit the changes it has gone through to achieve that beauty ~ Maya Angelou
At first you might feel uncomfortable or guilty, as this is something new. I assure you that you'll get better at it. It just takes time and practice to get the ball rolling. You will ultimately feel a sense of freedom to be you! Other people will notice too and many will respond to you in a good way, while the rest might just drop off the radar and that can be a good thing too.
Start small and take one area of your life to practice with.  Ask what brings you joy and do you really need to add one more activity to your list. As you go about you daily rounds, be gentle on yourself if you slip up. Remember you are not striving for perfection, but progress! Just start again and have gratitude that you noticed your pattern.
I have found through my own experiences, and in coaching others, that there is an added ease and peace to life when you learn to say "no", and you will feel a sense of having more space in daily living.

About The Author: Maggie

Maggie helps people turn the radio dial up on their vibrations to hear the messages you're meant to receive. It all began as a teen with a dog-walking job in the neighborhood that—if you'll excuse the pun—unleashed Maggie's innate Gifts as a powerful Intuitive Reader. What followed was a rewarding career as a Tarot Reader, Numerologist, Reiki Master, and Angel Card Reader—to name just a few of her remarkable skills. Maggie's accomplishments include on-air co-host for Blogtalk Radio, several published articles on Tarot and Numerology, she's an endorsed reader for The Tarot Guild, and a much sought after Intuitive Reader hired for both corporate and private events. In addition, she has a YouTube channel where you can view and subscribe to her weekly vibes. If you'd like to personally tune-in to Maggie's unique and highly accurate vibe, for yourself, you can find her at PsychicAccess.com.