Life's Little Miracles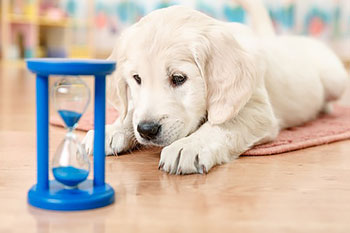 Recently a little miracle came into my life that reminded me of the importance of simplicity, unconditional love, and most of all patience.
Often we feel like we are being pushed or pulled in so many directions in our lives. We are moving so fast, it's hard to find time to just relax, or take time for the sacred, simple things in life. When this happens with me, I know I have to regroup, take some down time, and return to my simple but meaningful rituals and practices.
I am a nature girl, a bit of a mermaid, and an animal lover. I look to these traits to ground and bring me back to center. My husband recently went out to purchase a Boston Fern that I wanted, and came back with a little dog – an English labrador that he found at the fruit stand near our home.
Until one has loved an animal, a part of one's soul remains unawakened ~ Anatole France
We needed to find a proper name for this little 6 week old, 2.5 pound puppy. We decided to call him Mr. Finnigan, with "Finn" as his nickname, and now we are three with our animal babies. Puppies require attention, time, training, and above all, lot's of love. Finn is teaching me patience as we go out for walks in nature, and adjusting to his eating and sleeping schedule since he is so tiny.  Also finding his preferences, Finn is a shade lover, so I look for areas during the day as the Sun moves so he can enjoy his shade as he goes about his outdoor routine.
He has befriended the other two " angels" in our family. The girls are loving this beautiful little soul, and are gladly sharing their toys and taking him under their wing.
Mr. Finnigan is taking me back out in nature, creating "slow time" again for me and showing me the unconditional love that most of us forget about. This slow time has put many things in perspective for me: seeing what I truly need in my life right now; what I can release; and the need to slow down.
Since I am caught up on my Numerology charts for my clients this month, I decided to look at Finn's numerology chart to see what it said about him and his personality. Yes, I actually cast Numerology Blueprints for pets too! Finn has a Life Path of 5, an Attitude of 6 and his day of birth is a Master Number.
He certainly embodies the curiosity and adventure of the 5, so he will keep us entertained and will help us make time for play as my husband and I are both 8 Life Paths. Finnigan's 5 vibration does not know a stranger, and he needs extra exercise.
His attitude of the 6 is one of family and loyalty and his day of birth is a Master Number in Numerology, so he has been gifted and challenged to inspire others, and he loves to be loved!  His Sun sign is in Aries, the same as my husband – adventurous, enjoying challenges, and happiest when they are active.
Could a greater miracle take place than for us to look through each other's eyes for an instant? ~ Henry David Thoreau
I like to also look at the first vowel in a name, for that tells us what is inside and true for them. Finn's is an "i", which holds the vibration of the 9, the 'Old Soul" that has wisdom to share.
I also like to look at the name we give our children and pets as it is most important to choose a name we like, but also one where the vibration harmonizes with the family. Finnigan's power name is an 11/2 which is the same as his birthday – that Master Number that is so loving and inspiring! Two's are one of the most compatible numbers in Numerology.
Laughter and wonder is another essential in life. Animals can teach us that too. It doesn't have to be one of our pets, but could also be the animals we encounter outside: the squirrel in our yard trying to scale the bird feeder, falling but trying again; the birds that sing so beautifully in the morning that give us hope for the day; and the owl that calls to his mate at night that reminds us there is someone, something here for us to love and be loved.

About The Author: Maggie

Maggie helps people turn the radio dial up on their vibrations to hear the messages you're meant to receive. It all began as a teen with a dog-walking job in the neighborhood that—if you'll excuse the pun—unleashed Maggie's innate Gifts as a powerful Intuitive Reader. What followed was a rewarding career as a Tarot Reader, Numerologist, Reiki Master, and Angel Card Reader—to name just a few of her remarkable skills. Maggie's accomplishments include on-air co-host for Blogtalk Radio, several published articles on Tarot and Numerology, she's an endorsed reader for The Tarot Guild, and a much sought after Intuitive Reader hired for both corporate and private events. In addition, she has a YouTube channel where you can view and subscribe to her weekly vibes. If you'd like to personally tune-in to Maggie's unique and highly accurate vibe, for yourself, you can find her at PsychicAccess.com.