Simran – Mantras Of Self-Love, Or Self-Hate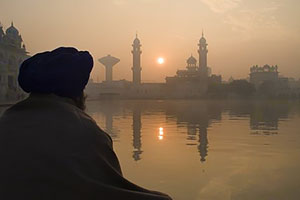 We perform Simran every day, for better or worse. The Punjabi word Simran is derived from the Sanskrit term for "act of remembrance" or "recollection". Simran leads to the realization of that which is of the highest aspect and purpose in one's life. It is the continuous remembrance of the finest aspect of the self, or the continuous remembrance or feeling of God, thus used for introducing spirituality. This state is maintained continuously while carrying out the worldly works outside.
Simran is remembrance of our Higher Self and Spirit; or we remember everything bad about our self and our actions. One is Spiritual Simran, the other is Lower Body Simran. Whether we are aware of it or not, we perform Simran all day, every day. We have continuous thoughts all day about who we are, what we think about our self, our actions, behaviors, character traits, and so forth.
Meditating, meditating, meditating in remembrance, I have found peace. Simar simar simar sukh paa-i-aa ~ Guruji
Unconscious lower body Simran usually includes self-criticism and can lead to depression, anxiety and often is the cause of addictions. Addictions, including drugs, sugar, caffeine, alcohol, worry, compulsions, overwork, all serve a strong purpose. When we are worried about managing and surviving an addiction, we get to forget about our uncomfortable life emotions. Addiction is not just physical, it is emotional as well.
When we stop addictions or addictive behaviors, we have to actually start feeling our feelings, rather than diverting our feelings to something out side of our self! We even do this with happiness; we use outside circumstances like sex, physical activities, money, food, entertainment to create a feeling of happiness inside that we cannot find when left alone with our self.
Meditation helps us to develop Spiritual Simran. It breaks the habits of unconscious Simran that tears us down. Meditation creates new habits of consciously tuning into our Higher Self.  Through mindful meditation we develop the courage to confront our Lower Body Simran and learn to tune into our Spirit and our Guides on a more regular basis. Our Guides cannot get through to us when our internal self-talk (Lower Body Simran) dominates our energy field. It is not easy to catch our self when we are "Simran-ing" self-hate or other critical thoughts, and we must catch those thoughts first in order to consciously make a different choice and put in place Spiritual Simran.
Naam incorruptible is beyond our comprehending. At the same time, it is our constant companion and pervades all creation. The true Guru discloses it unto us and lets us perceive it in our hearts. It is through God's grace that we meet with such a Guru ~ Guru Ram Das
Meditations, energy work, sharing yourself with other light beings, working with a true Teacher, and other Spiritual work are all ingredients needed to switch from Lower Body Simran to Spirit Simran. We learn to switch our self talk, our internal conversations from one of self doubt, fear, criticism to listening to the Guidance that is always there. We then learn to construct Spiritual Simran of self-appreciation, compassion, forgiveness and encouragement of the self to remember that we are a Glowing Spirit having a human experience (not the other way around).
Simran is happening all day, every day. However Spiritual Simran is, at least at first, a discipline which later, with practice,  can become your normal state of being. Spiritual Simran brings us self-respect, self-love of the highest order, inner peace, joy and opens us up to our Divine Guidance.

About The Author: Nonna

Nonna lives in Southern California, and is a professor of psychology and a teacher of psychic development, energy work and meditation, who has recently finished her PhD. She has been a counselor for both humans and animals for thirty years, removing energy blocks through her expertise in the spiritual arts. She also has numerous years of study and practice with classic psychological therapeutic models, family work, twelve-step processes, nutritional and body/mind/spirit healing, complementary, alternative, and quantum medicine. Nonna is brilliant at unearthing the gems in every client's soul and polishing them to a fine finish. To release your own soul's sparkle, contact Nonna at PsychicAccess.com.