Calling All Angels – It's Time For Romance!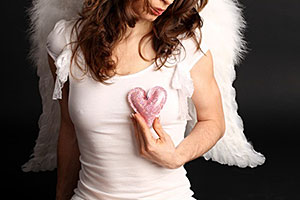 When it's romance and love we seek, we can look in many places. And sometimes we find it in the most unexpected places. Typically, our friends and family may make introductions, or we might join a meet up group for those with similar interests, or we could even try one of the many dating sites available on the Internet these days. But have you ever considered the possibility of calling on the Angels to do some match-making on your behalf?
There are specific Angels who are ideal for this, including your Guardian Angel. We simply must ask, and be specific within our own hearts as to what we truly desire. Of course, we don't want just anyone. No, it must be that person we can comfortably sit with in silence and not always have to talk to. A person with whom we share that unspoken understanding and mutual trust. Or for some of us it may be a sense of humor, someone that makes our heart smile. We must ask the Angels for the things that are important to us.
When you realize you want to spend the rest of your life with somebody, you want the rest of your life to start as soon as possible ~  Nora Ephron
And yes, we must be ready too by being in a place of truly loving ourselves, having a sense of humor, feeling we are enough and a part of that Divine Essence, being grateful for what we have right now, and knowing more love and blessings are on their way. We also need to release past relationships, and be gentle with ourselves as we look at the lessons and gifts that came out of those past experiences. The "gifts" sometimes may be harder to find, but there may have been some signs that we did not pay attention to, or we gave some things "a pass" or rushed into a relationship without the friendship part coming first.
I know when I reflect on past loves, this has been the case in many instances. My guides have shown me that some people came into my life who are a part of my "soul family". We discussed before we reincarnated as to what lessons we were going to work on in this life, and they committed to be that person for me.  So no matter how it ended, I just send them love and thank them for helping me with this lesson.
The Angels I regularly work with in my practice are Archangels Michael, Raphael, Jophiel, and Chamuel. We merely need to ask for their help. And yes "ask" is the key.
Archangel Michael helps cuts the cords from the past with his sword of cobalt blue, when we are ready to release someone from our life and send them on the way for their own good.
Archangel Raphael will heal any residual wounds and help us during any grieving process. Even the best past relationships often requires grief, forgiveness, and healing work. And grief does take time. Forgiveness is for ourselves, so we don't stay stuck in the same story or repeat it with another person. We don't need to condone the experience or someone else's behavior, but we must send any energies that do not belong to us back to the other person.
When angels visit us, we do not hear the rustle of wings, nor feel the feathery touch of the breast of a dove; but we know their presence by the love they create in our hearts ~ Mary Baker Eddy
Archangel Jophiel is the angel of beauty and illuminates our inner and outer beauty. She helps uplift our thoughts to not only see our own beauty, but see the Light and Love in everything around us. When she walks with us, we can feel her vibrant deep pink light, it radiates out from us and others are attracted to this vibration of love.
Archangel Chamuel is considered an Angel who can not only help us find lost objects, but also love! Wherever our Beloved is, he can help bring us together.
It's comforting to call on our Angelic guides to be on our romance support team. They are close at hand and this is their purpose and delight, to support us in our best and highest outcome in finding our Beloved. All you have to do is ask.

About The Author: Maggie

Maggie helps people turn the radio dial up on their vibrations to hear the messages you're meant to receive. It all began as a teen with a dog-walking job in the neighborhood that—if you'll excuse the pun—unleashed Maggie's innate Gifts as a powerful Intuitive Reader. What followed was a rewarding career as a Tarot Reader, Numerologist, Reiki Master, and Angel Card Reader—to name just a few of her remarkable skills. Maggie's accomplishments include on-air co-host for Blogtalk Radio, several published articles on Tarot and Numerology, she's an endorsed reader for The Tarot Guild, and a much sought after Intuitive Reader hired for both corporate and private events. In addition, she has a YouTube channel where you can view and subscribe to her weekly vibes. If you'd like to personally tune-in to Maggie's unique and highly accurate vibe, for yourself, you can find her at PsychicAccess.com.