How To Survive Those Family Get Togethers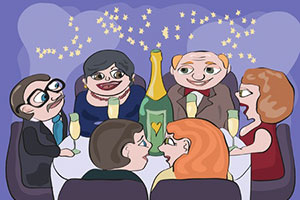 We all have to attend those birthdays, holidays, weddings and other "family affairs" from time to time that can be so very draining. Even for days, weeks or months before we feel the dread of that "special event." It often takes a little piece out of us each day leading up to the occasion. The familiar phrase, "you can't go home again" from a book by Thomas Wolfe, entitled Look Homeward Angel, comes to mind.
At these events we have to face the cumbersome task of having to compare notes with the other members of the family. Some have changed, while some who have not. There are often many questions: what are you doing now, are you married, seeing someone, any children? Even discussions about politics and religion that can create much discomfort.
All the men in my family were bearded, and most of the women ~ W.C. Fields
To add insult to injury you may have the odd family member who has had one drink too many, or the drama queen or king throwing a tantrum. Or you might have to endure the overbearing matchmaker aunt, or any other member of a whole cast of peculiar characters.
So what to do to survive these emotionally exhausting family events? Well, we can completely skip the event. Early on let it be know that you are not going to be able to attend due to a prior commitment, and maybe send a gift ahead. This can take the pressure off completely.
Sometimes it is good to take a break from large events and instead meeting people on a one-on-one basis, or seeing people in smaller groups. It can even be a healing experience to take a complete break or sabbatical from these get togethers all together for a period of time. We do have options and choices, without guilt, for the sake of our own well-being.
By being empowered to make these choices, we feel better in the long run. For others, it can make them feel uncomfortable or rejected, but they may come around in time to see that we are making healthy choices for ourselves and not just accepting that this is the way we have always done things before.
If you do choose to attend, I have recommend a few strategies that can help you enjoy yourself and others more at these family gatherings:
Happiness is having a large, loving, caring, close-knit family in another city ~ George Burns
1. Decide when you will arrive and how long you will stay.  We often feel we have to stay for the entire event, but we don't.  You can let them know ahead of time if that works for you.
2. Consider beforehand what aspects of your life are off limits to share with others. Never let anyone push you into a conversation that you are uncomfortable with, or disrespect you in any way. When those conversations come up, you can say "I'm not going there" and change the subject. Or your can avoid them by saying, "Isn't that Patricia who just came in, I have to pop over there and say hello, I have not seen her in ages!" You could also opt for a hint of mischief in your eyes or voice and say, "That's a secret right now!" I have really had some fun with this one. I love to be a bit mysterious and it's actually a very attractive quality.
3. Have your own fabulous and uplifting topics ready to engage people, as most people love to talk about what new fun thing they are doing. Circulate, and chat with different groups and do not get sucked into any particular group. If politics or religion come up, as they often do, you can politely and firmly let them know you prefer not to discuss those, or just quietly slip out of that conversation. I remember as a child, my aunt after two Martinis, could expound all evening on politics and everyone felt captive and uncomfortable. You can always get up and leave at any time. So, keep your mental well-being front and center in your awareness.
4. Use what you know to engage in meaningful conversations. I am a numerologist, so it's fun to ask people their day of birth and chat about those energies and vibrations. People always love to share their birthdays and those of others with me. I also communicate with angels and animals, so it's fascinating to ask others about their experiences, if appropriate. If you have something you would like to share, it can be great fun.
For the first time ever I was taking the family on the road. We stayed with my in-laws, which on life's list of experiences ranks right below sitting in a tub full of scissors ~ Jeff Foxworthy
5. Use your imagination to make it a fun experience. One of my favorites is to imagine we are all playing parts in a show and we are each "in character". Well, we all are sort of playing a role at these events anyway, so just have fun with your own character and others. This often gives us greater empathy and compassion for everyone else, including ourselves.
So, however you choose to approach these family affairs, I like to remember to keep it light-hearted. Remember that people are doing the best they can with the information and ability that they have at any given moment. We are all traveling together on the Planet as amazing beings with our own foibles and curiosities.  Wavy Gravy the famous activist clown from the 60's, once said: "We're all bozos on the bus, so might as well sit back and enjoy the ride."

About The Author: Maggie

Maggie helps people turn the radio dial up on their vibrations to hear the messages you're meant to receive. It all began as a teen with a dog-walking job in the neighborhood that—if you'll excuse the pun—unleashed Maggie's innate Gifts as a powerful Intuitive Reader. What followed was a rewarding career as a Tarot Reader, Numerologist, Reiki Master, and Angel Card Reader—to name just a few of her remarkable skills. Maggie's accomplishments include on-air co-host for Blogtalk Radio, several published articles on Tarot and Numerology, she's an endorsed reader for The Tarot Guild, and a much sought after Intuitive Reader hired for both corporate and private events. In addition, she has a YouTube channel where you can view and subscribe to her weekly vibes. If you'd like to personally tune-in to Maggie's unique and highly accurate vibe, for yourself, you can find her at PsychicAccess.com.