It's My Job To Tell You The Truth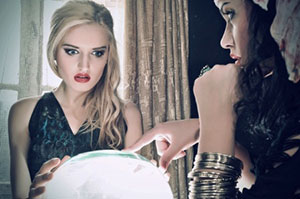 Some time ago, while doing a psychic reading, my guides told me that the client had a Russian military connection in her ancestry. I shared this with her, and she vehemently told me I was dead wrong.
These moments are awkward in my line of work.
Weeks later, in a rare occurrence, this client contacted me again to say that in researching her family tree she had actually discovered there was indeed Russian military in her background!
Psychic work is not always about being right, or wrong. It is also about how to get the most out of a reading, or meaningful assistance from any source. While we don't want to simply accept what someone tells us, we do need the ability to keep an open mind. How else do we hear new information — especially if it threatens our current belief system?
Have the courage to say No. Have the courage to face the Truth. Do the right thing because it is right. These are the magic keys to living your life with integrity ~ W. Clement Stone
When seeking assistance from someone, we need to know what we are looking for, our priorities and our limitations, so we can make an effective decision in our selection of a helper person.
In some cases we simply want validation for our perceptions….if that is the case, we should look for someone who will tell us what we want, or need to hear. Often we can use friends for that, rather than a trained professional. Or we can turn to spirit guides for validation.
In therapy, when someone is hurt by what is said, that is always an indicator that a nerve was hit – some truth was touched upon, some hidden fear revealed. And typically that person may stop therapy and often criticize or blame the therapist. If, for example, someone told me I was selfish and mean, I would have to laugh, or shrug my shoulders. That would be someone's perception and they have a right to have it. That comment would not hurt as there is absolutely no truth to it. And I am free to examine the statement with no big emotional charge.
If someone tells me information that is dead wrong for me, I would laugh in amazement at how bad or unskilled the person is. Not become upset. If you get mad, one needs to look to your own mind — that pain is from you.
For example, I am not a motivational speaker. It is not my job to tell people what they want to hear. I channel from other sources and at times (while praying during a session) I am begging for another message telling Guides, "If I say that the person is going to hate me!" and I am told, "Say it or tell them you cannot help them – there is no other message."
Don't bend; don't water it down; don't try to make it logical; don't edit your own soul according to the fashion. Rather, follow your most intense obsessions mercilessly ~ Franz Kafka
Doing psychic readings can be very challenging. There is not much room for ego. One has to stay centered on the reality. You are simply the conduit for messages from a Higher Source, often saying things you don't understand, but the recipient does understand as a personal message.
I complain to my Guides that if I told people more of what they wanted to hear I would be more wealthy and popular. They laugh; they don't care about those kinds of riches.

About The Author: Nonna

Nonna lives in Southern California, and is a professor of psychology and a teacher of psychic development, energy work and meditation, who has recently finished her PhD. She has been a counselor for both humans and animals for thirty years, removing energy blocks through her expertise in the spiritual arts. She also has numerous years of study and practice with classic psychological therapeutic models, family work, twelve-step processes, nutritional and body/mind/spirit healing, complementary, alternative, and quantum medicine. Nonna is brilliant at unearthing the gems in every client's soul and polishing them to a fine finish. To release your own soul's sparkle, contact Nonna at PsychicAccess.com.


This site uses Akismet to reduce spam. Learn how your comment data is processed.