Rituals To Ring In The New Year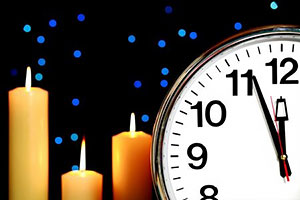 I have two New Year's Eve spiritual practices that I do to release, and bring luck and prosperity for the New Year. One is the Burning Bowl and the other is Ringing in the New Year with Coins and a Candle. Rituals help us stop and pay attention to our lives, look at where we are, where we are going, release and feel gratitude.
The Burning Bowl Ceremony has been practiced by many different spiritual groups. I participated in this ceremony years ago in the Unity community. It is a way to release the experiences from the past year that no longer serve us. I still practice this in my home every year.
For last year's words belong to last year's language and next year's words await another voice. And to make an end is to make a beginning ~ T.S. Eliot
Having looked up the synonyms for release, I selected those that brought personal feelings to the different ways I think about releasing negative thoughts, feelings, and experiences: let go, relinquish, liberate, unloose, free, give up, surrender, unbind, unchain, unfreeze, pass on, set free, and lastly, absolve.
I will once again perform my Burning Bowl Ceremony this New Year's Eve. I have chosen a ceramic bowl that I made years ago.
The Toolkit:
– A ceramic or fire proof bowl
– Cut up pieces of paper (recycled paper is great)
– Candle (one that holds special significance is lovely)
– Sand or pebbles to anchor the candle in your bowl
Note: Be mindful of good fire safety practices if performing the ceremony inside.
The Process:
1. Go within, meditate, and see what feelings, issues, or beliefs come up which no longer serve you and you want to release.
2. Jot each one down on a separate sheet of paper.
3. Light each sheet of paper from your candle; then drop and burn in your bowl. You can say a prayer or blessing. My prayer is: "I release and bless you." Wait until the paper has burned completely and then repeat with the next sheet.
We will open the book. Its pages are blank. We are going to put words on them ourselves. The book is called Opportunity and its first chapter is New Year's Day ~ Edith Lovejoy Pierce
4.When you are done, and the ashes are cool, take the bowl outside and pour the contents on the ground while saying a prayer or blessing. I have a bottle of water, blessed by the Full Moon, that I will pour over the ashes on the ground and into my bowl to cleanse.
5. After doing this, my affirmation is: I am a child of the Universe and I enter this New Year with a lightness of being with gratitude.
6. Then the next celebration is when you first open your door on the New Year, carry a lit candle to bring in the light, hope and send you new vision out to the Universe.
7. Next, you take coins that you have gathered during the days approaching the New Year, which in many cultures represent luck, I put mine in a big bowl and I stand outside my front door and throw the coins into the house. I let it stay there for 48 hours and then collect and donate it to a favorite charity.
These are fun rituals to do by yourself, with friends or family. Children especially love this last one! There are many meaningful ways to celebrate moving from the old year and welcoming in the New Year. Try mine, or design your own.

About The Author: Maggie

Maggie helps people turn the radio dial up on their vibrations to hear the messages you're meant to receive. It all began as a teen with a dog-walking job in the neighborhood that—if you'll excuse the pun—unleashed Maggie's innate Gifts as a powerful Intuitive Reader. What followed was a rewarding career as a Tarot Reader, Numerologist, Reiki Master, and Angel Card Reader—to name just a few of her remarkable skills. Maggie's accomplishments include on-air co-host for Blogtalk Radio, several published articles on Tarot and Numerology, she's an endorsed reader for The Tarot Guild, and a much sought after Intuitive Reader hired for both corporate and private events. In addition, she has a YouTube channel where you can view and subscribe to her weekly vibes. If you'd like to personally tune-in to Maggie's unique and highly accurate vibe, for yourself, you can find her at PsychicAccess.com.