Manifesting In 2015 – Be In The Flow Of Prosperity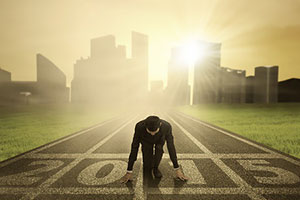 We are almost ready to close out 2014 and bring in the new energy for 2015. The year 2014 was a 7 World Year in Numerology. It's theme was about doing our spiritual work. It was about being focused even with the challenges that came our way and seeing the gifts in those challenges.
Sometimes we found ourselves in those liminal spaces, defined by Dr. Joan Borysenko as "the place between no longer and not yet." But that's a point of reinvention, the fertile place, a place of curiosity where we can move forward when we look at any of the blocks that held us back from our past, and working on letting them go, releasing. Take time now to celebrate the small and big joys and accomplishments and look at the gifts in our lessons.
For last year's words belong to last year's language. And next year's words await another voice ~ T.S. Eliot
To prepare for the energy that is available in 2015, we must take time to write down all the things that we are inspired to accomplish and our intentions. The year 2015 is an 8 World Year in Numerology, one that holds the energy of abundance. It is a great year to take what we learned in 2014 and manifest our desires here physically!
In an 8 Year, the vibes are about financial prosperity and self-discipline. When you look at the number 8, you see the top circle of the 8 pointing to the heavens, and the
bottom circle point to the earth. It is about connecting heaven and earth, grounding our spirit with the earth.  The 8 holds great promise for getting our finances in order, being open to receive, and in business blending our spirituality with the physical work we do.
Abundance comes in all forms, not just not money. It is a feeling that we have more than enough in all areas of our life. It's a time to look at our finances and come up with plans on how we want them to grow, and how to make any needed adjustments, because there are tremendous opportunities available to us next year.
We might find ourselves working hard in an 8 Year, so one of the lessons is to make time for play, and not neglect our relationships – especially the relationship we have with ourselves.
The 8 is all about wanting to manifest and provide for ourselves, family, and have ample abundance to also help others. It's also important that you feel recognized and appreciated for the work you do during the year. It's important to align ourselves with people who appreciate and support us.
If it keeps up, man will atrophy all his limbs but the push-button finger ~ Frank Lloyd Wright
The vibes of the 8 also remind us to take care of our health. In an 8 Year, we can get busy and often neglect what we do for this amazing physical body that helps us. The 8 energy is a year that will bring opportunities, can be hard work, but with the reminder that comes with the 8 energy to make time for personal pursuits and do good things for our body and soul. Give it love, good food, and find ways to enjoy movement and physical exercise.
Physical activity also helps us when we feel stuck, or out of sorts. It can be a simple as getting up and moving to a different room and looking out the window, or taking a walk. I like to put on some dance music for a few minutes and dance out all that "stuck energy." And an added benefit is that we just feel better when we move and are able to look at things from a different perspective.
An mental exercise to use to jump start our creativity and get our right and left brains better connected, so that ideas will flow, is to imagine the 8 on its side. Trace it around with your mind's eye for a few minutes. This is also known as the symbol of infinity. Often if we are stuck in our logical left side, or our creative right side. This visualization brings them together working beautifully. Another manifesting tool is to write an 8 on a piece of paper and place it in your wallet for financial abundance.
In Tarot, from the Major Arcana, 8 is the Strength Card. That beautiful Lady sitting with the Lion. She represents quiet strength and she has the infinity symbol above her head, representing unlimited possibility, movement, flow, and actions taken that will shape our destiny. The Lion represents our passion and power. It's also about embracing our passion and harnessing our power. Are we the Lady or the Lion? I think a little of both.
The Divine Feminine is emerging for all of us in these times, regardless of gender. It's about a kinder and gentler approach to life, but one coming from an inner strength. The Lion in the card asks us to look at our personal power. We have the power to choose what we want to bring into our lives. The year 2015 is a year of action!
Prosperity is only an instrument to be used, not a deity to be worshipped ~ Calvin Coolidge
The crystal I chose for 2015 is Citrine. It is an amplifier and has amazing manifesting properties for Luck, Wealth, Prosperity and Abundance. It's golden light and energy helps in motivation, healing, letting go of stuck energy, as well as inspiring confidence and trust.
I also like to select a theme, word, or affirmation for every year. A lovely one for an 8 Year is: "I take responsibility for my life and make wise choices; and abundance is my birthright."
We each have our own Personal Year too in Numerology, that changes each and every year. It also helps us work with the World Year energy. I love to work with people in order to look at how their Personal Year can be an ally to the World Year energy, and challenge us personally to help us put in place action plans for our year ahead.
Whatever Personal Year you find yourself in, take advantage of the opportunities that the New Year will bring. Next year choose to create a life filled with sweetness, love, well-being, prosperity and abundance. Are you ready?

About The Author: Maggie

Maggie helps people turn the radio dial up on their vibrations to hear the messages you're meant to receive. It all began as a teen with a dog-walking job in the neighborhood that—if you'll excuse the pun—unleashed Maggie's innate Gifts as a powerful Intuitive Reader. What followed was a rewarding career as a Tarot Reader, Numerologist, Reiki Master, and Angel Card Reader—to name just a few of her remarkable skills. Maggie's accomplishments include on-air co-host for Blogtalk Radio, several published articles on Tarot and Numerology, she's an endorsed reader for The Tarot Guild, and a much sought after Intuitive Reader hired for both corporate and private events. In addition, she has a YouTube channel where you can view and subscribe to her weekly vibes. If you'd like to personally tune-in to Maggie's unique and highly accurate vibe, for yourself, you can find her at PsychicAccess.com.