Thanksgiving Gratitude With A Sprinkle Of Desire!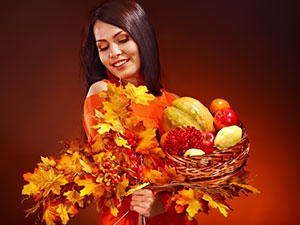 Today we once again find ourselves thinking about the things we are grateful for. But should we be thankful and appreciative only one day of the year? The Thanksgiving holiday is wonderful opportunity to start a simple gratitude practice of kindness and sharing, which we can apply in our daily lives.
Social media offer us many fun ways to practice gratitude and contribute to creating a better world. We hear and see more stories of paying it forward with random acts of kindness on the Internet these days. We see charitable campaigns, empathetic activism, compassion and benevolence increasingly expressed on platforms like Facebook, Twitter and Instagram – in stark contrast to the other side of the news found in the mass media.
Gratitude is an opener of locked-up blessings ~ Marianne Williamson
But often these opportunities for thanksgiving and caring for others fall off our list as life goes on, and we are pulled in different directions. What if we committed to keep going on our gratitude practice for a year, and see how we feel and what miracles have occurred over time? Imagine the real difference we could make if more people participated!
My Gratitude List has all the things I am grateful for, and I jot down next to the items how I feel. It starts and ends my day with enormous grace and peace. I can feel myself vibrating with love. Weekly, I will look at the list and pick out a few people or memories, and find something I can do to thank them for being in my life. If they have made their transition to the other side, I find another person to share it with.
It can be as simple as a telephone call; bringing a favorite snack or latte to someone; walking or sitting out in nature; sending light and love to all the Nature Guardians; or supporting a cause that is close to your heart by volunteering or giving support in other ways.
Another practice incorporates creating a Desire List with gratitude. Every day I also write something on my Desire List. We are all worthy of anything we can dream of. I keep it on my desk where I can see it. Sometimes I change it up and put my list on the large easel in my office, where I can't miss glancing up at it from time to time.
You can really have fun with your Desire List! Write in colorful pens or pencils, or put a stone or crystal next to it that can act as an accelerator. Some of my favorite stones for this are Citrine for abundance and confidence, a Rose Quartz heart (two if you are manifesting love), a Carnelian for creativity, and Angelite to hear the inspired messages from your Angelic Realm.
Gratitude unlocks the fullness of life…. It can turn a meal into a feast, a house into a home, a stranger into a friend ~  Melody Beattie
Your list can include literally everything and anything. It can be that red velvet muffin with delicious cream cheese frosting, a colorful soft scarf, bringing confidence into your life, the new job that brings you joy, a class you have been dreaming of taking, that special vacation, luxuriating at a spa, a spiritual retreat, or your love life … finding that special person. Truly anything you desire!  And be specific. This is your Desire List so put your own signature on it. I always end my list-making by saying aloud this short prayer, "This or something better, for the highest good for all."
As your wishes begin to manifest, and you experience each desire on your list, write "Thank You" next to it. Express your gratitude. You will start noticing that you are a manifestor and no matter how small or large the desire, you can manifest and bring it into existence. You will start to have bone deep confidence in your connection to Source, not limited by time and space.
If one thing seems to be stuck on your list, take a few minutes to drill down as to what it is you really desire. How does it make you feel? You may uncover something that may be blocking it, or a fear around attracting it, or maybe you are not feeling worthy. Release those to the Divine and our Celestial Helpers.
Timing and patience often come into play, as all things come in Divine timing, but make no mistake, your Desire and Gratitude Lists are a magical practice that will bring abundant blessings and grace into your life and the lives of others. And whatever it is that you may receive, remember to give thanks by sharing your abundance and prosperity with others. Blessings are made to be paid forward.

About The Author: Maggie

Maggie helps people turn the radio dial up on their vibrations to hear the messages you're meant to receive. It all began as a teen with a dog-walking job in the neighborhood that—if you'll excuse the pun—unleashed Maggie's innate Gifts as a powerful Intuitive Reader. What followed was a rewarding career as a Tarot Reader, Numerologist, Reiki Master, and Angel Card Reader—to name just a few of her remarkable skills. Maggie's accomplishments include on-air co-host for Blogtalk Radio, several published articles on Tarot and Numerology, she's an endorsed reader for The Tarot Guild, and a much sought after Intuitive Reader hired for both corporate and private events. In addition, she has a YouTube channel where you can view and subscribe to her weekly vibes. If you'd like to personally tune-in to Maggie's unique and highly accurate vibe, for yourself, you can find her at PsychicAccess.com.