Always Trust The Cat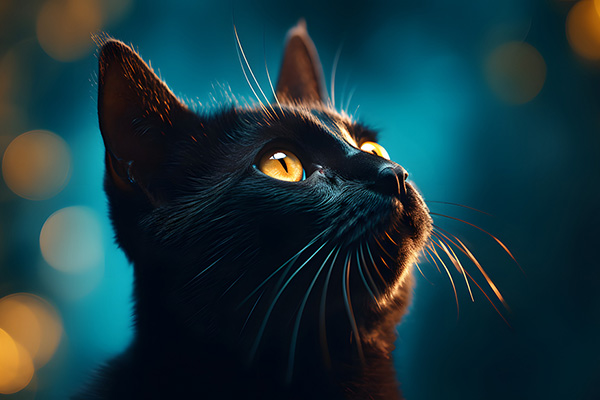 Years ago I had the privilege of owning a beautiful, sleek black cat, officially named "Midnight Mercedes Amadeus," but more simply known as "Fluffy."
I am very fond of black cats and absolutely adored this one. Fluffy was adventurous and extremely easy to get along with. We spent many happy hours together just enjoying life.
One day I noticed that Fluffy did not seem to be feeling well, and as it persisted, I decided that I had better take him to the vet to find out what the problem might be.
I took him to a new clinic near my home because I did not want Fluffy to suffer any longer than necessary. As soon as I walked into the waiting room and saw the vet, I knew that Fluffy did not like her one bit. How did I know? Well, the cat told me telepathically, of course.
Be that as it may, Fluffy urgently needed to see a doctor. So, in we went.
The vet was not sure what the problem was, but suggested giving Fluffy a cortisone shot "just in case."
"In case of what?" I heard Fluffy ask indignantly.
Well, we would never find out, because this time I totally agreed with the cat. I let the speculating vet know that this kind of medical experimentation on my beloved Midnight Mercedes Amadeus was totally unacceptable. Annoyed, I took my beautiful cat home!
I have studied many philosophers and many cats. The wisdom of cats is infinitely superior ~ Hippolyte Taine
But it soon became clear that Fluffy's health was not improving, and I was reaching my wit's end trying to find a solution to his wellness dilemma. Then it occurred to me to simply ask the cat what his problem might be. Why had I not thought of that before? How wonderfully simple it all became!
Well, Fluffy was very forthcoming and immediately let me know that his problem was due to a nutritional deficiency, which upon further investigation I discovered was a lack of magnesium in his diet. Eureka!
The next morning, bright and early, I made my way to the local pet store, confident that all of our problems would be quickly solved. I marched up to the lady behind the counter and told her I needed a magnesium supplement for my cat. She asked me if the vet had recommended it, and of course I answered honestly, "No, the cat told me."
"The cat told you?" she inquired with a raised eyebrow that soon turned into a side-eye glance.
"Yes," I repeated confidently, "the cat told me."
By this time, the woman was calmly backing away from me (was it my imagination, or was her hand searching for a panic button?)
"Why don't you ask the vet?" she asked again.
"Why should I ask the vet," I replied, "when I have the cat?"
If animals could speak, the dog would be a blundering outspoken fellow; but the cat would have the rare grace of never saying a word too much ~ Mark Twain
It was clear from this exchange that the sales lady was not going to be much help and I needed the magnesium for my beloved Fluffy!
As synchronicity would have it, a fellow pet lover was standing nearby during our conversation and overheard the entire exchange. As it turns out, he is very knowledgeable about feline nutrition and made sure I knew exactly what I needed and even showed me where to find it. I purchased my product from the unhelpful sales individual and returned home safely to care for my sick boy.
Once Fluffy got the right food, he recovered quickly. We had a nice, long coexistence for many years, and we continued to talk to each other. The cat even went so far as to tell me about some of his past life experiences. Interestingly, they were all incarnations as some kind of creature.
Our arrangement for two worked beautifully, until Fluffy got fed up and decided to leave this crazy world for a more heavenly plane of existence.
Since then, I have shared my life with other cats. As much as I love them all, I still miss the special connection I had with my dear Fluffy. But rest assured, if there is ever a problem of any kind, I will always trust the cat in my life before anyone else.

About The Author: Kitty

Kitty is a Canadian Intuitive, born into a large family of clairvoyants and clairaudients. A local celebrity, she's been giving accurate predictions in her paper for over fifteen years now, and is often called upon to lead séances and provide readings at Psychic Fairs in Vancouver. A trained counselor, she combines her natural Gifts to detect blockages at their root, and provide detailed psychic information and practical advice for success and happiness. She's helped locate missing items and people, has communicated messages from loved ones who've passed on, and communicates with two Sacred Celestial Beings who are unerring in the startling information they provide. If you'd like to connect with this remarkable Intuitive, whose talent spans generations, you can find Kitty at PsychicAccess.com.


One Response to Always Trust The Cat