Bi-location A Forgotten Psychic Phenomenon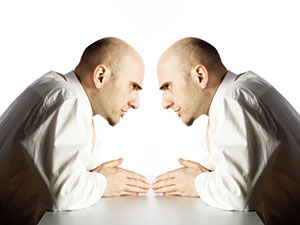 Bi-location is a lesser known psychic ability which enables one to be present in two locations at the same time.
The paranormal phenomenon of bi-location, psychic projection and doppelgangers involves the person appearing in solid form, as well as their double in ghostly form in another location. The double has been reported to "act strange", and does not acknowledge others when spoken to. This has been experienced by many people and even has been practiced by will according to some reports.
The concept can be found in many of the major religions of the world, as well as in occultism. Bi-location has also been practiced by magical adepts for centuries and is mentioned in texts on mysticism, spiritualism, and Theosophy.
There was no mistaking him. He was wearing the same clothes and the same distinctive hat. The only difference was that he was staring straight ahead with a strange vacant, glassy expression in his eyes, as if in a daydream. Later I mentioned seeing him on the bus, but in fact he had come in his van! ~ Robert Evans
Bi-location has been exhibited, for example, by some of the Christian saints, such as Saint Anthony of Padua, Saint Martin de Porres and Saint Padre Pio. One of the earliest is the apparition of "Our Lady of the Pillar" in the year 40 AD.
A famous Saint is said to have been in a trance, and while he was in this altered state of consciousness he visited the bedside of a dying clergyman. This event was confirmed by others at the dying mans bedside, who witnessed the apparition. The Saint was many, many, miles away, where people saw him at that time in his original location!
This topic has been studied by the Society of Psychical Research, many years ago. Now, in our time, the phenomena is no longer receiving the interest that it does deserve.

About The Author: Gabrielle-Claire

Gabrielle-Claire is a spiritualist psychic reader who channels the messages her Guides provide. She is also a gifted psychic healer who has studied with some of the finest metaphysical teachers, including a renowned healer of the Aquarian Foundation. Through her connection with the evolved souls of her Guides and Ascended Masters, she is able to put all of her numerous skills and gifts to great use, providing answers and healing energy to clients, and helping them to find their own hidden talents and abilities. You can have a life-transforming reading with her today at PsychicAccess.com.