The Healing Power Of Pain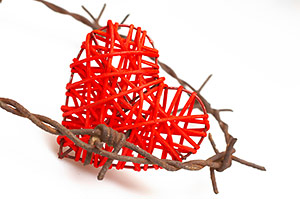 Many people get readings because they are in pain. Modern culture is often "anti-pain," making it impossible to find people to share with when one is in emotional, or psychic pain.
People often put on a positive face, because it is demanded by our modern culture. This effort of maintaining a false façade is exhausting, and we often see the collapse of the immune system from this effort.
This kind of energy depletion can often not be treated, because typically the person does not admit to doing this. Or sometimes, people who have been doing this for decades, have forgotten that they are in fact doing is doing this!
Numbing the pain for a while will make it worse when you finally feel it ~ J.K. Rowling
Pain is good! Physical pain tells us when we need to heal, and where we need to heal. Pain in the body informs us that we are pushing ourselves too far, or going too fast.
Emotional pain is the same. It is a compass that directs us to healing, and all healing is good.
If we pay attention to small pains, take care of them. As in wellness versus illness treatments, they will not turn into big pains, injuries or issues.
The same is true for emotional, or psychic pain. If we pay attention to the little symptoms, we can detour a divorce, or our children getting addicted. We need to notice, discuss, and treat all pain as soon as we notice it.
Readings definitely help, but be sure to follow up by working on yourself! We can do a little wellness work every day and it can become a habit – a good habit that can reduce emotional crises.

About The Author: Nonna

Nonna lives in Southern California, and is a professor of psychology and a teacher of psychic development, energy work and meditation, who has recently finished her PhD. She has been a counselor for both humans and animals for thirty years, removing energy blocks through her expertise in the spiritual arts. She also has numerous years of study and practice with classic psychological therapeutic models, family work, twelve-step processes, nutritional and body/mind/spirit healing, complementary, alternative, and quantum medicine. Nonna is brilliant at unearthing the gems in every client's soul and polishing them to a fine finish. To release your own soul's sparkle, contact Nonna at PsychicAccess.com.