Should You Change Your Destiny?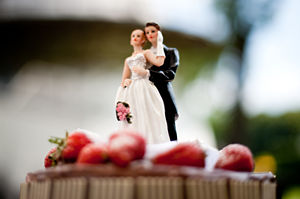 I received an email from a client at PsychicAccess who asked me why we would choose to do things in our lives knowing that a particular event will turn out negative, especially when our psychic senses send us these negative vibes in advance?  Can we not prevent these events from happening?
This was a good question offering me the opportunity to share from my personal experience.
Many years ago, I decided to get married, after dating my soul mate for four years. At first I told my special love that I did not want to get married. I did not understand at the time what was holding me back?  However, I had a horrible premonition about getting married. I thought this was strange, since I dreamed about marrying since I was a child.
Destiny is not a matter of chance, it is a matter of choice; it is not a thing to be waited for, it is a thing to be achieved – William Jennings Bryan
By his third proposal to me, I finally agreed to marry, even though my inner voice and senses were warning me of terrible events that will happen after the wedding. Sure enough, there was an accident with the bride and groom cake at our reception. But only the little groom's head on the cake top fell off. Of course, I was far too happy to let this little incident bother me and ruin our special day. Our love for each other kept my thoughts positive.
About a week later, the photographer left our wedding picture proofs in my mailbox. Inside the envelope was a note explaining that she had unfortunately messed up some of our wedding pictures. After viewing the picture proofs, I noticed the groom's head was cut off in some of the pictures.  Accidents happen to everyone and things happen for a reason, but I did not understand this at the time.
Today I realize these signs were preparing me for something that would be happening in the future. Seven months after our dream wedding, my husband had a heart attack.
Now, I could choose to remain depressed, or I could choose to find the positive in his death.  Again, our love for each other kept my thoughts positive.
I can't control my destiny, I trust my soul, my only goal is just to be. There's only now, there's only here. Give in to love or live in fear. No other path, no other way. No day but today – Johnathan Larson
Should I have changed my destiny when I sensed something terrible may be heading my way?  My answer to that is definitely no. To this day I do believe our wedding was meant to be, and I still have happy thoughts about my late husband and our dream wedding.
Whatever the future may hold, you can change your negativity right now, by choosing to focus on the positive side of each and every situation.  I had the best years of my life with my late husband and his spirit is what keeps me strong and happy.
Feel free to contact me anytime on PsychicAccess.  I can help you to change your life and thrive upon a much happier and healthier future. Let me guide you towards embracing your true destiny.
About The Author: Mystic Carli

Carli is an international psychic advisor, based in Canada. She is a Certified Early Childhood Educator with a background in Communication and Psychology from Capilano and Douglas Colleges in British Columbia. Carli currently team teaches full day Junior and Senior Kindergarten for the puplic school board in Ontario. When she is not working with children, Carli is available on Psychic Access. She loves to help people from all walks of life, all over the world with her unique and gifted psychic abilities, to guide them on their special pathway in life. Carli possesses the qualities of a kind, caring and compassionate individual with sensitivity and empathy in regards to the needs of others. Get a reading with Carli at PsychicAccess.com.