The Seven Layers of The Auric Body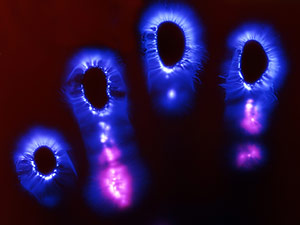 Clairvoyance is the ability to perceive things beyond the main bodily senses, and is a form of extra-sensory perception.  Clairvoyance is harnessed and used for psychic readings, through retrocognition and precognition, and to potentially make contact with the dead through mediumship.
Psychic connections can be made with the human body through different portals of auric energy, of which there are seven. Each one is tied to a specific and personal aspect of ourselves, and clairvoyants can access each of these aura layers to do many different kinds of readings.
There are also instruments, such as special cameras that can pick up on some of the energy layers of an individual.
The basic talent allowing us to see an aura is in all of us. In fact, we see auras all the time but are just not consciously aware of the fact. It is only when we turn off the rational, cognitive part of our brain that we can let the intuitive part 'see' the human energy field ~ Mark Smith
The Seven Auric Layers
The human aura has seven layers that emit constant energy, and this is what clairvoyants use to do psychic readings on many aspects:
Etheric – closest to the body, having a definite shape and size. It ranges from a quarter inch to two inches from the body, and lines of energy are easiest seen here since it is so closely tied to the physical body.
Emotional – deals with just that, emotions. Our personal emotions and the emotion we feel for others. This layer is less defined than the etheric layer, and is more active and energetic.
Mental – focuses on the mental aspect of energy. It is most often seen around the head and shoulders. This is where concepts and thoughts become reality.
Astral – this layer shows the distinct change from physical energy layers to higher energy layers. It is the layer that controls and deals with relationships with other people. On this layer, emotional bonds are formed.
Etheric Template – an exact replica of the etheric layer, yet on a higher frequency energy level. This is the divinity within.
Celestial Body – this energy level is on the spiritual plane, and it is where we communicate with spirit. It also encompasses love and trust. This is the human relationship with the divine.
Ketheric Temple / Causal Body – the mental layer in the spiritual realm. This is where we can discover our past lives, and finally connect to the higher planes of auric layers.  This is the location of the cosmic divinity that unifies all things.
Clairvoyants can use their gifts to tap into each of these auric layers and do specific readings related to all kinds of topics or life questions. These highly intricate and complex energy systems combine for a deep connection and reading.
Each layer is aligned to intimate parts of our being – from personal thoughts to past lives. Clairvoyants can access these auric layers and help individuals with many things such as identify resonant or disharmonious energies in relationships, assist with the achievement of goals, and indicate "stuck" points of energy that may hinder personal growth.

About The Author: Cosmic Coach

Cosmic Coach (James) has mastered many techniques in his psychic practice to connect with the unique heart center of each of his clients. He is a Reiki Master of many traditions, who is adept at crystal healing, card readings, and delivering detailed messages from Angels and Guides. A Christian Minister, a teacher and an Energy Guide, living in Michigan, James is always expanding the base of his knowledge to broaden his reach and serve as many clients as possible. To experience a unique reading personally designed for you, you can find Cosmic Coach at PsychicAccess.com.