Good And Evil, Joy And Suffering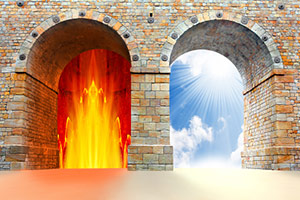 In my years of spiritual work dealing with friends, family, and strangers, I have learned a different slant on thinking when it comes to what is good, what is evil. It is my belief that evil is an abbreviation for an 'energy veil' that must and will be lifted in the New Age. It will be lifted, so there is in my opinion no need to be frightened by the word evil.
Imagine for a moment the millions of human souls incarnating on our planet Earth, and going back into spirit continuously. Many souls, and I mean plenty, have different opinions that have been taught to them on the subject of what is truth, and what is evil. They were taught these values in whatever culture or religion they found themselves. Some will state that some things are sinful, while other souls would say they are not. It is all a matter of individual belief and personal conviction.
What if evil is something dreamed up by man, and there is nothing to struggle against except out own limitations? The constant battle between our will, our desires, and our choices? ~ Libba Bray
For example, a person may believe that it is not a sin to miss church services or mass, but another person, taught differently, will be convinced that he will end up in hell for sure! Believe me, this person will create his own hell, for his experience. For we are what we think and believe. Meanwhile, the person who believes, or has a different view of the matter, will not suffer bad karma at all for this.
We are all our own judge and jury, responsible for our own experiences, be it joy and suffering. I know for some it may take a lot to digest this point of view, which you may well say is only my personal belief. But try to keep an open mind. Study people and be a witness to their lives. Find out what they really believe, and see the results manifested in their life experiences. You may just discover a whole new train of thought to familiarize yourself with.

About The Author: Gabrielle-Claire

Gabrielle-Claire is basically a spiritualist psychic reader. She gives the messages that her guides are giving her. She is also a gifted psychic healer and works with a senior member of the Aquarian Foundation. She gives readings and healings at her home, and also at a shop near to where she lives. You can have a reading from her at Psychic Access.com.