Let Us Guard And Protect Each Other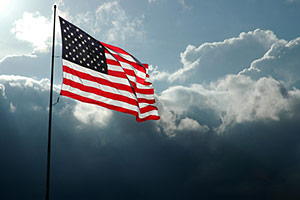 The recent events in Boston really is a horrible reality. After the September 11 attacks, I felt like we were more on our guard to be careful here in the USA. I felt protected by our armed forces.
The first year anniversary of 9/11 I will never forget. I was taking my evening walk, and all of a sudden I heard like a rumbling like thunder. I said, "Gee, it doesn't really look like rain coming," but the rumbling grew louder, and louder. And then I saw the V-formation of the US Air Force fighter jets. They were low in the sky, they passed over me. I became pretty emotional and started to cry. It was not a sad cry, I was just so taken by it all. It may sound corny, but at that moment I felt so proud to be an American, and to be living in the USA.
I am certain that after the dust of centuries has passed over our cities, we, too, will be remembered not for victories or defeats in battle or in politics, but for our contribution to the human spirit ~ John F. Kennedy
We had a couple of pilots in my family. My father was in World War II as a pilot, and I had a cousin, Russ, who was also flew airplanes. He passed away very young, and being psychic I dreamt of him a lot. He gave me information, to show it was real.
Currently I am getting a message that we must go on 'high alert' for a while, and report anything that may seem suspicious – even if it amounts to nothing.
We must also remember 1776, and how we fought so hard to become a great nation. I guess what I am trying to say is, let's not let our forefathers down, and let us care and protect our neighbors. We can pray for the day that we will all live and have peace with the rest of the world!

About The Author: Gabrielle-Claire

Gabrielle-Claire is a spiritualist psychic reader who channels the messages her Guides provide. She is also a gifted psychic healer who has studied with some of the finest metaphysical teachers, including a renowned healer of the Aquarian Foundation. Through her connection with the evolved souls of her Guides and Ascended Masters, she is able to put all of her numerous skills and gifts to great use, providing answers and healing energy to clients, and helping them to find their own hidden talents and abilities. You can have a life-transforming reading with her today at PsychicAccess.com.


This site uses Akismet to reduce spam. Learn how your comment data is processed.