Are Ghosts Moving Objects In My Home?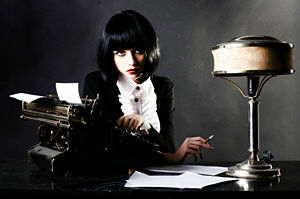 I sometimes get the impression that ghosts or spirits play jokes on us to get our attention. I was watching a 'ghost hunting show' last week on television and they had a section about items going missing in haunted homes. My wife said it reminded her of the time when the same thing happened with my mom's silverware set after she had passed away. Mom certainly made her presence known in this way.
My in-laws gave us many gifts for Christmas this year, and one of the gifts was lamp. Interestingly, for the past six months I began buying several small lamps at thrifts shops and yard sales. I never used to have such a penchant for lamps, but now I own a total of six – including the one we received as a Christmas gift.
The more enlightened our houses are, the more their walls ooze ghosts ~ Italo Calvino
After taking the new lamp out of its box and putting it together, I put it on my table in my computer room. The cord was still wrapped up and I had no light bulbs yet for the light. The next day the dog came running out of the computer room really fast, but I thought she was chasing the cat, so I never gave it a second thought. Later, I walked in to the computer room and discovered that the light my in-laws gave had been moved from one side of the desk to the other side! I asked my wife if she had moved the lamp, but she knew nothing about it. So, I put the lamp back where I had it in the first place.
A couple nights later the dog, who usually stays in the bedroom with us, woke up my wife and I in the middle of the night, barking as if someone was outside. So, we went outside to see if someone was there and since we could not find anyone, I told my wife we better go back in the house. Of course, the dog came out to greet us as if nothing had happened!
A couple of days went by, until one morning I walk into the computer room and I notice that pictures and birth certificates  of my family history had been places very nicely and neatly – spread all over the table this time. The lamp was in the same place every day. I had put my Ohio state hat in the same place, and when I lifted it up an old picture of my dad when he was a fireman was under my hat!
Ghosts could walk freely tonight, without fear of the disbelief of men; for this night was haunted, and it would be an insensitive man who did not know it ~ John Steinbeck
At first I had no clue why these things were happening or who was responsible. Were ghosts moving objects in my home? then I remembered sometime back several psychics had told me I need to further look up my family history, because there are many missing answers to questions I have of my family's background – not only me, but also my brothers and sister.
In the past, I used to go to the Ohio Historical Center to trace my family's past. It used to be a hop, skip and a jump from where I lived with my parents at the time. Since I had moved away and both parents had been gone for a long time, I felt the need to start digging up my family roots again. The moment I started I really hit it hard. I felt I had started to unlock some interesting stuff, with the family pictures and my dad picture under my hat. The light going from one side of my table to the other side, and the way the dog was acting, there must be a reason why the psychics of the past kept telling me I need to look into this. I don't have all the answers right now, but I will update you in the near future.

About The Author: Raymond

Growing up on the streets of Columbus Ohio, Raymond learned at a very young age that he was gifted in many ways, including the ability to read someone's eyes and using a regular deck of playing cards to read the future! His mother was from a Native American family, namely the Black Foot tribe, and his father was German. Raymond discovered that both sides of his family had a psychic legacy. Over the years he has gained additional knowledge from books and by talking to trusted family members. Raymond has been doing psychic reading for others for over 3 decades, and over the years he gained many loyal clients from all walks of life. Visit Raymond for a reading at PsychicAccess.com


This site uses Akismet to reduce spam. Learn how your comment data is processed.