Intuitive Color Meditations For Healing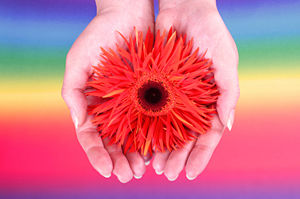 Color and color healing is a powerful tool that you can use on yourself and also apply to you environment, and to help those you love.
We vibrate to color. Our chakras have different colors, as do our auras, and these are constantly changing based on our circumstances, mood, and health.
Science has caught up with the spiritual arts with clinical trials that use blue light-emitting diode (LED) lights for wound healing and treating some mood disorders, as well as infra red for mood disorders. The Ayurvedic system of healing goes further, incorporating the use of gemstones, which is also color based, for healing, and mood enhancement.
I like to teach people to work intuitively with color as a starting point, rather than teaching a prescribed color therapy system, as I feel this develops more of an initial feel for color. One can find a  formal system later, if so desired.
Color is the keyboard, the eyes are the hammers, the soul is the piano with many strings. The artist is the hand that plays, touching one key or another, to cause vibrations in the soul ~ Wassily Kandinsky
Working on myself, I simply allow whatever color appears in my imagination be the 'right' color in response to the internal question, "What color is best for me now?" I visualize bathing my entire body in that color, with my eyes closed. I then ask internally if there is another color I might need to enhance my spiritual, mental, or physical well-being. If one comes, I use the same process again. If not, the exercise is complete.
I also use this simple process for healing clients by asking questions targeted to a specific issue or problem area, for example, "What color does this person's heart need for healing at this time ?" This works for both people and pets. I do the same to 'clean' or protect my house and workspace by asking, "What color do I need to enhance the energy of my house?"  In each case I then imagine the color that comes to me bathing the subject. If the color changes as I am imagining it, I intuitively follow those changes without resistance.  I always ask at the end, if there is another color needed. If nothing comes, the process is complete.
This is a fun and powerful way to work with the healing energies of color, particularly if you are a visual person.

About The Author: Nonna

Nonna lives in Southern California, and is a professor of psychology and a teacher of psychic development, energy work and meditation, who has recently finished her PhD. She has been a counselor for both humans and animals for thirty years, removing energy blocks through her expertise in the spiritual arts. She also has numerous years of study and practice with classic psychological therapeutic models, family work, twelve-step processes, nutritional and body/mind/spirit healing, complementary, alternative, and quantum medicine. Nonna is brilliant at unearthing the gems in every client's soul and polishing them to a fine finish. To release your own soul's sparkle, contact Nonna at PsychicAccess.com.