Spiritual Healing During My Hospital Stay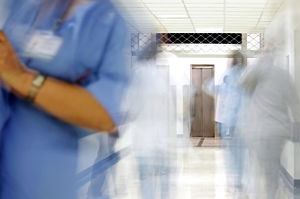 A few weeks ago, I went to my primary care doctor for a nuisance of a cold, I couldn't shake. My doctor took my blood pressure; it was 85 over 45 and he put me in the hospital right from his office.
It turned out that I was having a bout of severe anemia. I received three pints of blood, and a few more tests. After the eighth day I begged to go home. I will try to finish my testing at home; sometimes the hospital can bring you more down than what you are suffering from. I am not saying that hospitals are bad. They are the best place you can be when you need to be there. I felt I no longer needed to be there. I had meanwhile learned that anemia is not a disease in itself; it is a symptom of something else going wrong, and there are quite a few things that could be causing it. It is my prayer they soon find out why I have this, so I can work on feeling like my old self again!
Sadness flies on the wings of the morning and out of the heart of darkness comes the light ~ Jean Giraudoux
Since early childhood, I have many times dreamed of surgeries being performed, and hospitals. When I was in my 20's I started to do spiritual healing for those who needed help crossing over.
It began with my cousin, Russel, who was only 26 when he passed. I was heartbroken; we were close. No one ever said what really caused his death, because he had contracted meningitis the year before, but at the time of his death he seemed to be free from this disease. He passed in his car, while driving. I always feel it was the meningitis, and not the car accident, that killed him. I did not know any family business, because I lived far from them, and we were not talking too much anyway.
About a year later I dreamed one night of Russel. He came to get me to bring me to grandma, because she was in the hospital. We took the train together to the city, and I found grandma. Russel said, "Please give grandma healing." In my dream I just picked her up and prayed, and gave her many hugs and kisses.
In the meantime, my family did not tell me that my grandmother was actually sick at that time. The next day she passed. Only then did I get the phone call. No one in the family believed my dream. It was then that I learned that it is sometimes best not to talk about your psychic gift with anyone! The only one who believed me was my mom.
Light gives of itself freely, filling all available space.  It does not seek anything in return; it asks not whether you are friend or foe.  It gives of itself and is not thereby diminished ~ Michael Strassfeld
Next, I want to tell you about a beautiful woman. Her name was Maryanne. She was in the bed that was next to mine in hospital. She seemed was elderly and she came from a nursing home. She had no family. I managed to make friends with her. She was critically ill and could not keep any food down. I feel they should have been nourishing her intravenously. It was my third day there and I was walking around. When I looked at her, I said to myself, she won't make it through the night. I saw her etheric body on top of her physical body, and a saw some cords unraveling. I went back to my bed and prayed her passing would be pain free and fast. That night I fell asleep at 11pm, and I woke at 2am to the sounds of her choking. The nurses were working on her. It only took about eight to ten minutes. They did all the usual emergency care and resuscitation, but she was already gone.
Even though I am psychic, I cried for her and prayed she would go to the light fast. After they took her to the morgue, they cleaned the bed. I was awake all night, but kept hearing noises. The next day the noises were gone; she did go to the light. I thanked God. I guess I had to write about this, because we do have to experience this part of life, and try to get a better understanding of the end of a physical incarnation.
About The Author: Gabrielle-Claire

Gabrielle-Claire is basically a spiritualist psychic reader. She gives the messages that her guides are giving her. She is also a gifted psychic healer and works with a senior member of the Aquarian Foundation. She gives readings and healings at her home, and also at a shop near to where she lives. You can have a reading from her at Psychic Access.com.