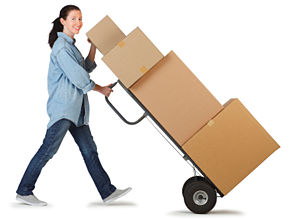 The sign over the door to the building read:  "The Metaphorical Center For Recycling Euphemistic Baggage".  Inside  . . . at either end of a long conveyor belt . . .  two more signs read: "Dump Your Old Issues Here" and then "Get Your New Life Here".  Over the middle of the conveyor belt was a big, rectangular machine with flapping rubber doors on either side and a sign over it that read:
"The Transformation Station"
I had heard of this place.  A good friend of mine had tried it…so I thought… what the heck…I might as well give it a shot.  I was "stuck" and exhausted from carrying around the weight of old stuff that I was hanging on to from my past.
I had so many things to recycle that I had to use one of those long, flat floor carts to bring them up to the starting point on the conveyor belt.  I had issues like bitterness, hatred, resentment, sorrow, phobias, panic, compulsions, depression, sexual dysfunction, anxiety, obsessions, pain, and nightmares just to name a few. Continue reading →