Published
November 5, 2010
|
By
Raymond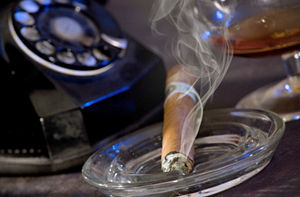 When I was 16 I was really into going to church, trying to find myself and meeting girls! Why not? I was young and still trying to figure out life.
One day in church, while the congregation was singing a hymn, I kept smelling cigar smoke for some reason. It was as if someone was blowing it directly into my face, and it kept getting stronger and stronger.
I went to the bathroom and splashed water on my face. I hoped that it would help me to get rid of the smoke. Shortly after the smell disappeared. I decided to keep this experience to myself and not tell anyone.
After the long ride home, I remember getting out the car and finding my father in the kitchen. He asked me how church was, and whether I met any girls (he would always giggle when asked me that). Suddenly the smoke smell was back, and it was even stronger than the first time. The phone rang. It was my grandfather, but we got disconnected. Continue reading →
Posted in

Afterlife, Mediumship, Paranormal Phenomena
|
Tagged

Afterlife, childhood, clairalience, clairvoyant medium website, crossing over, death, family, ghost whisperer, ghosts, life path, life purpose, medium, mediumship, paranormal, Paranormal Phenomena, religion, spiritual messages, The Other Side
|
3 Comments