Posts Tagged 'soothsayer'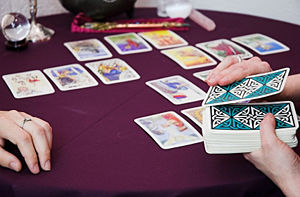 To get a successful answer from my relationship readings, it is good to know that I can provide you an empathic reading very quickly, usually within five minutes, if you want their feelings in general about you, without knowing their psychological motivations.
But please do allow for at least ten to twenty minutes for a thorough understanding of what your Tarot cards are stating if you want an answer to a situation. Sometimes I can get the answer very quickly, but it may take time for you, as the new client, to understand what I am going to have to explain to you, because I get so much detail.
I pull out the entire deck without a coherent spread and I receive a tremendous amount of information. So, to expect a yes or a no in less time for a card reading is not usually advisable, especially when you have some very deep questions that even in life could not be resolved with a simple yes or no. Read the rest of this entry »