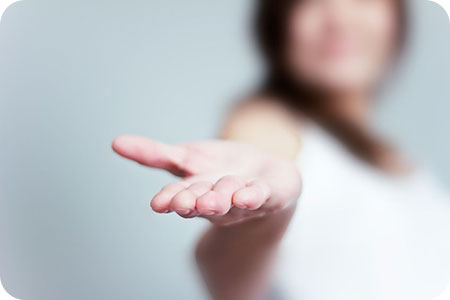 Ever had one of those days where you feel as though you're at your wits end? You thought to yourself, "I can't handle this anymore. I'm not even sure who to turn to, to support me!" You probably found yourself feeling stressed, overloaded and ready to explode, or perhaps just feeling exhausted, drained, like you're a car for which the fuel light came on 20 miles ago.
There is only one thing you can do in these situations. Stop.  Pull over. You need to assess your situation. When I work with people who are feeling either of those intense states of being, I help them figure out which category they are falling into at that moment. Are they a giver or a taker?
Many of us think that we are never 'takers,' but truth be told, nearly all of us fall into that category from time to time.  There's nothing wrong with being a taker, the same as there is nothing wrong with being a giver. That is, as long as you are equaling out your exchange.
If you are always a taker, depending upon others for physical, emotional and spiritual support, you are going to soon find your lush forest of support become a dry empty desert. When there is no equilibrium of give and take, people will naturally pull away from you. Individuals can only take the sense of draining for so long. Continue reading →