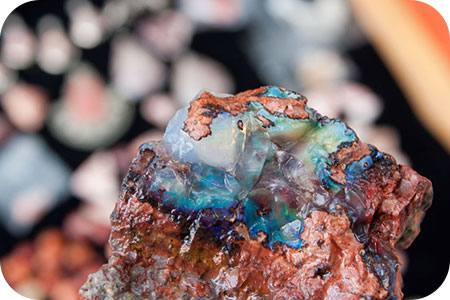 Opal is known as the 'seeing jewel.' Its name originates from the Latin word opalus. I was told this by the owner of a beautiful crystal store in South Africa. Most Opal he said can be as much as 65 million years old! The stone contains a high percentage of water, which creates a play of color through light, and a sparkly phenomena.
Opal's energy represents both the higher emotional body and higher mental body. This jewel adds light to the aura and helps to bring buried emotions to the surface. When I bought my first Opal from an interesting lady at a psychic fayre, she told me that the name originates from the Sanskrit writings and means 'precious stone.' It is amongst the most popular of stones sold throughout the ages.
The lady in question was from the Far East and said that in her culture Opal is a holy stone that holds the spirit of truth within. She added that the Greeks believed it provided protection from illness and the power of prophesy. She told me that Opal carries the energy of the Moon and water, and that it would enhance my psychic awareness. She also warned of its use in any rituals, because of its powerful energy.