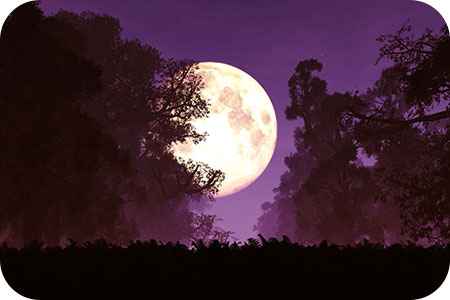 In Astrology, the Moon is deemed to be the celestial body most relevant to our everyday life patterns and mundane activities. This is because the Moon is the fastest moving astrological body and thus it is more specific to our earthly rhythms and daily routines. We can see this effect in nature, as the Moon influences several of the earthly rhythms, such as the ocean tides, animal behaviors, and even women's menstrual cycles.
Because the moon wields this kind of influence, we can ride her current, if we pay closer attention to her cycles, rather than swim against it when it comes to achieving our goals in life. You don't have to be an astrologer to follow the rhythms of the Moon and use them to help you in getting what you want. Any old calendar will typically detail the lunar cycles, and all you need to do is hang one on your wall and take heed.
A basic understanding of the major lunar rhythms, and what they mean energetically, can easily be incorporated into your life and monthly routine, in order to make 'big waves' in your everyday existence.
New Moon
When you think New Moon, think increasing. The New Moon heralds the waxing moon cycle, which means between this time and the Full Moon, the Moon is increasing in size. Thus, the energy is conducive for bringing in new things, growth, and anything that we want to see more of.
If you wish to begin anything new, such as a fitness regime, diet or educational path, then choose this time, between the New Moon and the Full Moon, to launch your new endeavor. If you want something to grow, like a tree, or an investment, this is also a good time to get it started.