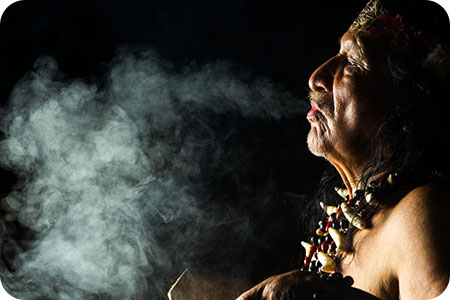 When treating chronic illnesses, such as depression or pain, we too often look only at the symptoms, and not the root cause. The fact is, most if not all of these conditions have at their foundation some form of loss: the loss of sensation, loss of control, or the fear of loss. For this reason shamanic medicine can be quite effective as a form of treatment.
Shamanism, the connection between the physical world and the spirit realms, is all about connections. As we look closer at chronic illness, we find that much of it is caused by a lack of connection: to our authentic selves, to our spirit guides, to nature, and to our intuition. This is whey shamanic healing can be of great value.
For thousands of years, before the emergence of modern medical practices, shamans were the healers and diviners of the community. Fortunately, their practice is as strong today as it was then.
A trained shaman is able to determine which type of healing we may need: soul loss or retrieval (often through past-life work), spiritual retrieval (a power animal, angel, or other spirit guide), or reconnection to the earth and spiritual realms. There are shamans with different specialties, just as we have physicians with different areas of practice. Continue reading →