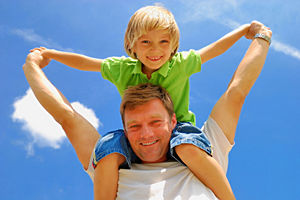 We have all been witness to a child's laughter. There is just nothing else like it. Such complete innocence, joy and bliss! It must be the most wonderful thing one can hear.
A child's laughter evokes a feeling of pure and complete connection with the Light. Why is that? I believe it is because children are so connected to God. It even says so in the Bible. Jesus said, "Let the little children come to me, and do not hinder them, for the kingdom of heaven belongs to such as these."
Children are so free of ego and they can have authentic conversations, while so many adults have to struggle with being true to themselves. We struggle with letting our own light shine, but children are full of truth, kindness and mean no harm.
Sadly, we as adults sometimes get short with kids, because we feel what we are doing is so much more important than their simple pursuits. Instead we should maybe let go of the mouse, get off the computer and play with our kids. Tyr it and see how their love light shine so brightly, because of the attention and time you devote to them. Continue reading →