fortune telling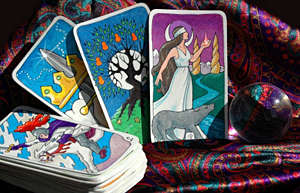 The origin of Tarot cards has been debated for centuries. In 1299 AD in Italy the first appearance of Tarocchi, an Italian card game, was recorded. The cards, and their artistic interpretations, began spreading and evolving throughout Europe.
Historians still debate whether the Tarot evolved from traditional playing cards. Early British history points to this possible evolution. Perhaps the oldest playing cards came from the Middle East.
My understanding is that the imagery on the cards contained hidden meanings (as they do today), because governments saw fortune-telling as practicing magic, which was considered a crime. The Church viewed the cards as blasphemy and a threat against its doctrines. So the 'true' meanings of the cards had to be hidden using symbols. Continue reading →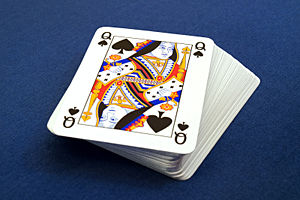 I do readings using a normal deck of playing cards, the kind you buy at your grocery store. This form of divination is known as cartomancy.
Cartomancy originates from the 14th century, when playing cards were first introduced to the world. Some historians claim that it might even date back to Ancient Egypt.
Using an ordinary deck of cards was the most popular form of cartomancy for centuries, especially in Europe from the 18th to the 20th century. Today a standard deck of playing cards has, however, become the little brother of the Tarot cards. These days many people find it unusual that someone would be using a regular deck of playing cards to predict the future. Continue reading →