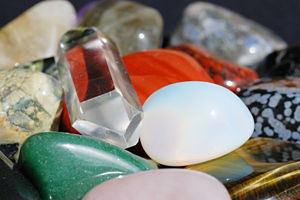 I use stones to change the mood in a room, to enhance a spell, to retain information, to direct energy, to shift patterns. The ways to use stones are as many as there are stones. You can use just one, or a combination to get just the right results. You can put them on a charm bracelet, in a bowl, on the coffee table. One time I wire-wrapped 30 of them and hung them from a foot high Yule tree in my tiny studio apartment.
While I was learning how to use stones I hit a tough time in my life. One night I decided to go out with some friends, and on my way out I grabbed a stone from the table. I didn't know why, I didn't ask. I just took one.
During the evening I felt what I can only describe now as a 'shift in balance'. When I got home I was listening to my answering machine and got to a message from someone I had just disconnected from. When I counted back the time, I realized he made that call when I felt the shift, and the stone I grabbed was a star ruby, which is useful in psychic protection! Read the rest of this entry »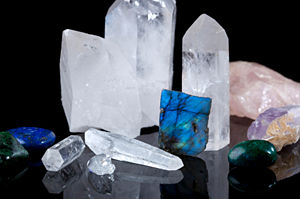 I've been surrounded by crystals, both in my personal healing and psychic work, since I can remember. I wouldn't call myself an expert on the subject, but I do know that these beautiful stones are aesthetically pleasing, and powerful to have around.
Many crystals have been given to me as gifts, and it's as if the giver always knows exactly what I need in terms of what the gemstones or crystals can help me with.
When choosing crystals and stones for myself, I simply allow them to 'speak' to me, trusting that their vibrations will call me. The actual color of the crystal or stone can have quite a profound effect on the mind. For example, medical patients are known to respond to the color blue, when it is used decoratively in a recuperative environment, and criminals are known to be calmer in a cell painted in very pale pink. Read the rest of this entry »