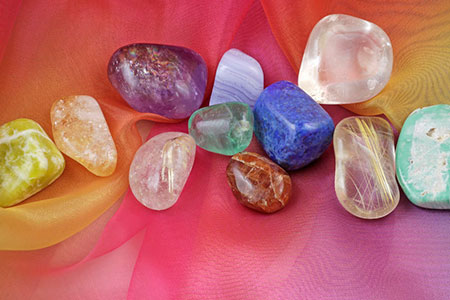 The beneficial powers of gemstones and crystals is well-known in the psychic and metaphysical community. Many of us use them in our daily spiritual work. One of the most amazing things crystals and stones do for us is to transmute energy, that is to say, change negative energies into powerful healing.
Let's take a closer look at some of the more popular crystals and stones and their individual energy properties. Remember, if you choose to use any of these crystals in your daily practice, their energies can be combined, depending on your individual needs.
Rose Quartz
Shades of pink, milky or opaque
Represents the planet Venus, and the signs of Taurus and Libra.
Not surprisingly, given its connection to Venus, this stone contains energies of universal and healing love. Many practitioners use it to increase levels of compassion for others, or before and after a session for grounding.
Rose quartz will help us to rid ourselves of fear, anger, jealously, or aggressiveness. It can also help us in a journey to let go of loved ones we have lost.