Monthly Archives:
September 2013
From the time she was born she has been gifted with psychic senses and has used her gift to help guide people throughout her life. Her co-workers, friends and family always came to her for advice since she has an amazing capacity to make accurate predictions with her extraordinary psychic ability. She's had the opportunity to provide her gifted psychic readings to thousands of people over the years, the many friends she's made keep coming back to her for advice. She is a college graduate with a background in Early Childhood Education and Psychology. Continue reading →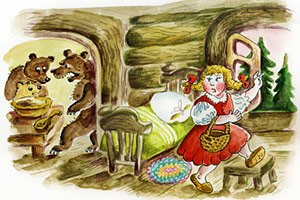 As a child, I often felt that metaphysical truths were encoded, not only in symbols, but also in fairy tales. Yesterday, I discovered the truth about Goldilocks and The Three Bears whilst reading Spiritual Astrology by CC Zain.
According to Zain, the three bears represent reason, impulse, and intuition. The Big Bear in the sky is symbolic of the way to truth. The tail of the little bear reaching it represents our potential to use the unconscious mind to learn about truth.
Unlike the unconscious mind (little bear), the conscious mind (big bear) is skeptical. Per the ancient Indian legend and the Bible, God's kingdom should be received as a child. This is why Goldilocks loved the little bear's belongings. The big bear and middle bear's belongings were too uncomfortable for her. Continue reading →