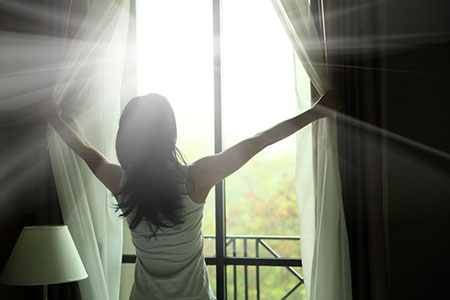 I begin each day with the affirmation, "I focus my attention on the love that is around me, and I expect miracles." After saying this affirmation of faith, I step back and watch the many miracles of the day unfold.
I learned this, and many other spiritual techniques, from the author and speaker, Gabrielle Bernstein. The daily result can be as simple as coming across a favorite book in a second hand shop, knowing it is Universe's way to tell me that it's time to read it again… or realizing that I hit every green light on my way home!
When the Universe blesses you with such miracles, big or small, it's important to say thank you. Your relationship with Universe should always be an ongoing conversation, in the same way you would with a close, loving friend. Connecting with the Universe daily, is the key to receiving these miracles.
If you want to be on a powerful spiritual path, meditation is the best way to get there. Even if you have to start by sitting silently and simply listen to your breathe for a few minutes, you can begin to feel the benefits almost immediately. Continued meditation can lead to amazing miracles in your life, and also offers you less stress, reduced chance of depression, calmer mind, and the ability to have successful relationship.
I argue less with my husband since I started meditating, for example, and our relationship has grown stronger (another miracle). In times of crisis I have also been able to reduce my stress significantly, compared to what it used to be before I chose to meditate (another miracle).