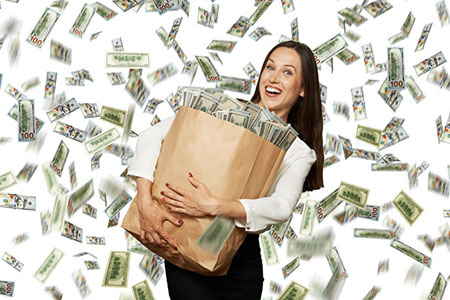 Could you use a little, or perhaps a lot of extra cash? I think most everyone can. Few people would mind a little financial flow increase. But if you're like many people in this busy day and age, you don't always have the time to focus on manifesting abundance in your life. Below I've outlined a few quick fixes for using the law of attracting to bring cash flow your way.
But first, let's define abundance. The word certainly has a monetary connotation to it, but abundance is even bigger and better than a few extra bucks in your pocket. Abundance means an overflow, and generous current of all that is needed to live a prosperous, fulfilled life.
And although love isn't always enough to keep us warm at night, there are many things in this world that are more needed beyond the cash notes, such as family, love, home. But what do these things have in common? They are things of value. Things of value are different than money, but they all benefit from the availability of money. Whereas money itself, means very little without things of value.
Knowing and understanding the energy of abundance is the first and most important step in manifesting abundance. With that in mind, let's consider five quick ways to manifest greater abundance..
Crystals
Invest in a few abundance crystals or 'money stones.' There are many options available, but a few of the main players are Citrine, Green Aventurine and Lodestone. Lodestone can be charged with magnetic sand before being put to use, for added potency.