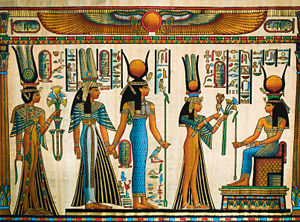 Goddesses have been around for ages and come from all parts of the globe. The following are some African Goddesses that you can call upon for specific rituals and prayers. Some of these Goddesses you may already know, and some may not be so familiar.
Mawu - Great Earth Goddess of the Dahomey tribe in Northwest Africa, who created humanity with clay and water.
Menos – Moon Goddess credited with invention of writing.
Hathor - The Great Celestial Cow Goddess of ancient Egypt. Creator of the world and all it contains. Protector of women, She is the Goddess of love and joy, the mistress of merriment. She is the sovereign of music and dance and the weaving of garlands. She often places Her spirit in the sistrum, a sacred rattle which drove away evil spirits. Read the rest of this entry »