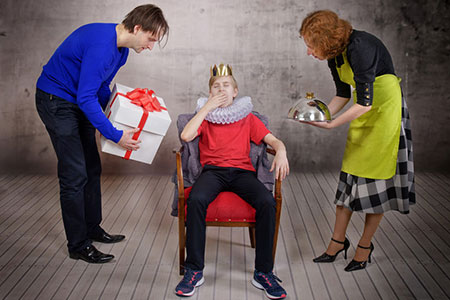 Are you an enabler? Enablers come in all forms. I was one. I did it to my children. I was a single mother, and guilt motivates us to think we are doing the right thing, when in fact we are only crippling the recipient. I was also a child enabled by my parents, and the road to get my head straight was long and painful. They didn't want to say no, so being brought up in an environment where everything is handed to you as a child, creates a crippled adult.
The television series My 600-lb Life, is a good example in my opinion. The people featured in the show are basically hostages in their own beds, due to their obesity. And each and every one of them is enabled by loved ones, family or friends bringing them more, and more unhealthy food. These people cannot go to the store themselves anymore, and yes, they may have eaten their way to where they are, but with the help of their enablers they are continuing to gradually destroy themselves. Is this really the answer? Because they love them and they can't take that person being mad at them?
I've seen this with parent-child relationships. Guilt often compels the giving parent to give, until they bleed, and teaches the child that all they have to do is protest or create a drama, and they get their way. The results can be devastating.