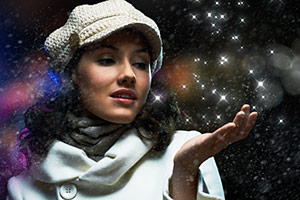 When I was very young I talked to people who were dead. I also knew things without being told, and I was interested in things that children, who grew up like I did, shouldn't be.  My mother's religion states that the patriarch of the home is also the spiritual leader of the home. To her that also meant that women do not have the right of divine prophecy.  My gifts and talents were not only not fostered, they were also frowned upon and I remember several instances when my mother or father would tell me I was being ridiculous and change the subject.
As a teen I began to study and practice Numerology, Astrology, Reflexology and Bio-feedback.  They were considered sciences by my family and therefore acceptable. These practices were therefore encouraged – apparently they made me a better, happier person. Read the rest of this entry »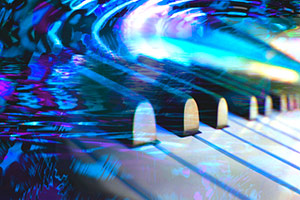 I've always loved music. Besides being soothing and an all round mood and energy shifter, it's been used to communicate with others since the dawn of time. I will frequently get a song in my head in two specific ways: some are from my mother; and those that are not from my mother. The 'mom songs' are Sunday school songs, the "not from mom' songs include everything else.
Popeye the Sailor sang a song, "I love to go swimming, with bowlegged women, and swim between their knees". One day I woke up to that song in my head and couldn't figure out who, why or what? I kept coming up blank. I knew that I knew the song from the past, but I couldn't remember exactly where I knew it from. Read the rest of this entry »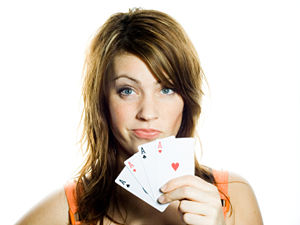 I am a psychic and I love gambling – enough that it's a good thing the nearest casino is 100 miles from home. Playing Blackjack, I can tell when the dealer is going to "bust". I don't play the averages and I can't count cards, I just know.
Poker is just as much fun, but I see the cards differently. In Blackjack I see the playing cards as high or low, in Poker I see the suit of the next card coming up.
There is an online quiz game involving music, in which you must guess who the artist is, or the name of the song. I know music and a lot of the time I know the song well. Other times I can tell who the artist is just by listening to the voice or the style of the artist. Read the rest of this entry »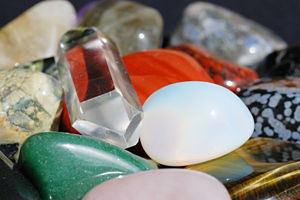 I use stones to change the mood in a room, to enhance a spell, to retain information, to direct energy, to shift patterns. The ways to use stones are as many as there are stones. You can use just one, or a combination to get just the right results. You can put them on a charm bracelet, in a bowl, on the coffee table. One time I wire-wrapped 30 of them and hung them from a foot high Yule tree in my tiny studio apartment.
While I was learning how to use stones I hit a tough time in my life. One night I decided to go out with some friends, and on my way out I grabbed a stone from the table. I didn't know why, I didn't ask. I just took one.
During the evening I felt what I can only describe now as a 'shift in balance'. When I got home I was listening to my answering machine and got to a message from someone I had just disconnected from. When I counted back the time, I realized he made that call when I felt the shift, and the stone I grabbed was a star ruby, which is useful in psychic protection! Read the rest of this entry »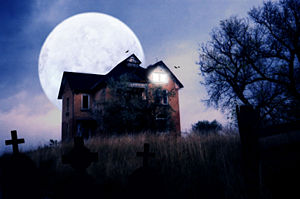 The town I live in has almost doubled in population since I moved here in 2005, but it's still pretty small. With a population of about 30,000, there are only five traffic lights in town, all of them on Main Street. The hospital is state of the art – all on one floor with Labor and Delivery being the biggest department in the hospital with four birthing rooms, as well as an operating room on standby.
Our town is rich in history and vision, including the heritage of a tribe of about 100 Goshute Indians having lived here since their recorded history, as well as plans being mapped out for a new ski resort to be built over the next five years.
In 1949 three families of Mormon pioneers settled on a small stream, on what is now the Southern edge of town. In the 1930s mining became the dominate industry, and the population swelled to 5,000 when gold, silver and copper were discovered in the Oquirrh Mountains. Read the rest of this entry »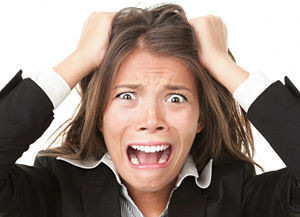 Recently, I went to a stress management seminar and I am much calmer now, since using many of the skills I learned there. I was so happy about the results I achieved that I emailed the facilitator of the seminar and asked permission to share some of the basics with you.
At the seminar we were taught a set of 'Distress Tolerance Tools'. The acronym you can use to remember this is ACCEPTS:
A – Activity. Go for a walk, take up swimming, get a hobby. Anything that takes your mind in a different direction for a while. The problem will still be there, but you should be able to see it with fresh eyes when you return.
C – Contribute. Volunteer in your community or work for a charity. For example, in many rural areas the fire department is run by volunteers. In the town I live in there is a 'baby cupboard' for young mothers to get diapers, blankets and formula for their infants. Read or play music at a rest home. Find somewhere to contribute. The possibilities are endless. Read the rest of this entry »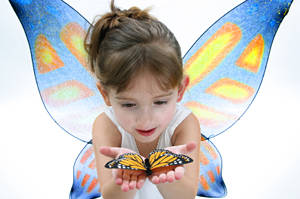 When I look at my daughters and see their psychic abilities, it is almost commonplace to me.
I didn't have the time, interest, knowledge or patience to foster their gifts, so they learned like I learned, by trial and error, and lots of studying.
Now I have granddaughters, and most of them are showing abilities.  Hailey is a medium, she talks to my mother and brother, who both have passed away, my oldest granddaughter, Bryanna, just knows things.
Rayme, the oldest daughter of my youngest daughter, has been showing healing abilities since she was three years old.  It was ridiculously easy to show her how to shift energy, and she has been 'feeling it better' since then. Read the rest of this entry »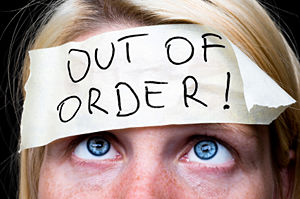 I believe that we are given the opportunity to learn many valuable lessons by having many experiences. Hopefully we will learn a valuable lesson with each experience, which will bring us closer to becoming 'enlightened'.
Some of the experiences we deal with provide us with the wisdom we need to someday help another human, who is in similar pain, understand and hopefully learn the same lesson themselves.
I also believe that if we don't learn the life lesson we are meant to learn, the Universe will offer another opportunity to learn that same lesson again, but that it will be more challenging the second time around. Many years ago, I realized I had a problem with alcohol and joined a 12-step program.  After 9 months, I pronounced myself 'cured' and I stopped going to meetings. I successfully stayed sober for the next eleven years. Read the rest of this entry »